SK-HD1800 1080p cameras deliver exceptional quality and volunteer-friendly ease of use as video takes on elevated importance in keeping congregation engaged
Southwick, MA, April 28, 2021 — Temple Baptist Church in Hattiesburg, Mississippi connects a membership of more than 4000 followers. They hosted over 2000 people each weekend before COVID-19 swept the world. Recognizing the critical role that video would play in engaging its congregation during the pandemic, the church undertook a complete upgrade of its production equipment and infrastructure. This was highlighted by four SK-HD1800 broadcast camera systems from Hitachi Kokusai Electric America, Ltd. (Hitachi Kokusai)
Prior to the overhaul, Temple Baptist Church was still using standard-definition video equipment for many aspects of its production workflows. At the time, an upgrade to HD did not seem imminent. "Cost considerations had precluded us from upgrading fully to HD across our worship facility," said the church's media director, Tanner Cade. "Going into 2020 we were planning to upgrade our in-venue audio, but given the impact of COVID and resulting importance of video, we switched gears. We postponed the audio enhancements and re-allocated that funding to upgrade our video infrastructure."
Process for Choosing the Equipment
Cade had been evaluating HDTV cameras at trade shows for many years, so he already had Hitachi Kokusai in mind when the project started. "I have always appreciated Hitachi's engineering and the value they deliver," he said. "I felt like cost-wise they provide really great bang for the buck in the church landscape. I spoke to peers who had done shootouts between camera manufacturers, and they also chose Hitachi. Combining all of that with a recommendation from InteRise, the integrator for our project, the decision was easy."
The SK-HD1800's native 1080p support and global shutter technology made it the ideal Hitachi model for the church's needs. "We use a lot of LED lighting of various types on our stage, so the SK-HD1800's ability to accurately capture that flicker-free was very satisfying," explained Cade. "We also wanted native 1080p not only for today, but knowing that we could up-convert it to 4K further down the road if we need to. The SK-HD1800 is a solid 1080p camera that we just couldn't pass up."
Implementation
Temple Baptist Church went live with their new HD infrastructure and Hitachi cameras in October 2020. Live video of Sunday services is projected through Barco Ultra HD laser projectors onto 24-foot by 13.5-foot Da-Lite screens, transforming the worship experience for in-person attendees. "Showing 1080p images on large projection screens is very helpful in a 2800-seat venue," said Cade. "The clarity of the IMAG picture, even from the balcony seats, makes people feel much more engaged when they come to our services."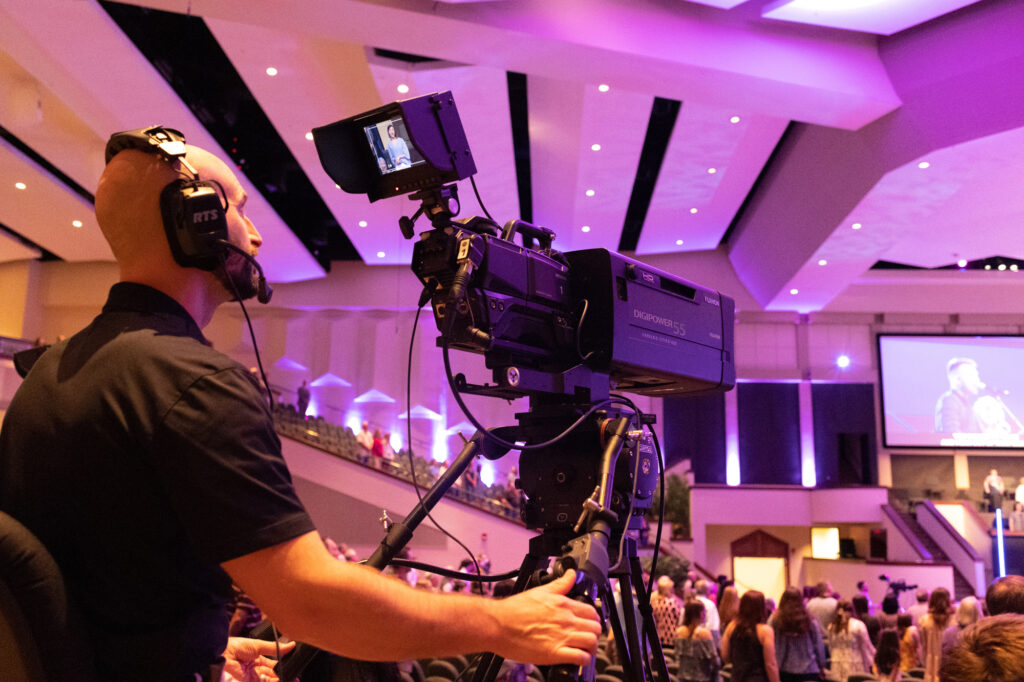 The Hitachi-acquired video is also shown throughout the campus on large displays and recorded for broadcast on local FOX television affiliate WHPM. It's also streamed live through the Resi platform to the church's website, social media channels, and mobile app. Temple Baptist Church's online audience has grown significantly since the pandemic started. Now they have between 800 and 900 followers watching the live stream each week.
Additional Benefits
In addition to lauding the quality advantages of the HD upgrade and the low-light handling of the SK-HD1800s, Cade notes that the cameras' ease of use enabled volunteers to jump right in. "We want any equipment we choose to be volunteer-friendly, as they are hands-on with almost everything Sunday mornings," he explained. "We have thoroughly enjoyed how easy it is for volunteers to latch on to the Hitachi cameras and excel with them."
Cade has been equally impressed with Hitachi Kokusai's customer service. "We feel like we are valued and recognized, and someone is always available to talk to us whenever we need," he said. "We really value that customer experience in any project or product we purchase, and we fully believe we are getting that from Hitachi Kokusai."
Help for the Rest of the Week
The new control room and video infrastructure are also giving the church's production team greater flexibility to move video between on-campus venues beyond its main worship center. This includes its preschool and children's centers, gymnasium, and post production studio. "We can now bring the same exceptional image quality that people are used to on Sunday mornings into other venues and studio productions during the week," said Cade.
Most importantly, Temple Baptist Church's congregation and production team are enthusiastic about the benefits the SK-HD1800s have delivered. "The Hitachi cameras have brought our church to a whole new ballgame of video quality that our staff and volunteers are fully embracing, and that our members love," said Cade. "We're excited to bring our members the same quality of work here at the church that they see at home on television, particularly as it's their giving – even during a difficult year – that enabled this upgrade. We're excited about the future of what the cameras can bring not only to our weekend services, but many other new opportunities for us during the week."

About Hitachi Kokusai Electric Inc.
Hitachi Kokusai Electric Inc., headquartered in Tokyo, Japan, is a company that manufactures broadcasting systems, security and surveillance systems, wireless communications and information systems. For more information on Hitachi Kokusai Electric Inc., please visit the company's website at https://www.hitachi-kokusai.co.jp/global/en/index.html.