To elevate the new At-Thohir Mosque's vibrant and impactful architecture, PT Chayolite and PT Buana Primalite Abadi Sukses deployed a wide selection of Martin lighting solutions.
Located in South Jakarta, the At-Thohir Mosque opened its doors in April 2022. Built on roughly seven acres of land, the mosque can accommodate more than 1900 worshippers indoors and an additional 1300 in its multipurpose plaza. The highlight of the At-Thohir Mosque is its intricate, modern-classical architecture, which consists of a large dome surrounded by four minaret towers as high as 40 meters and several smaller-sized domes. To give the Mosque an exterior lighting solution that heightened every detail during all hours and seasons, PT Chayolite and PT Buana Primalite Abadi Sukses worked with HARMAN Professional Solutions to illuminate At-Thohir's façade with Martin Exterior Series lights.
With ultra-durable IP66- and IP67-rated housing and powerful ​​RGBW LED bulbs, the Martin Exterior Series' commitment to versatility is two-fold. Not only can the fixtures adapt to any setting thanks to their wide color palette and beam options, but their weatherproof enclosures also guarantee that they will thrive in any outdoor condition.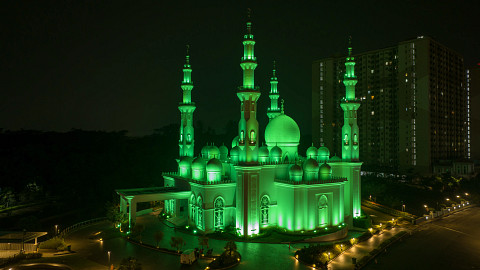 For the At-Thohir Mosque, the installation team deployed 220 Martin Exterior Wash 110 lights, which offer up to 1300 lumens at full white and six different beam angle options. Supported by 48 in-ground Martin Exterior 410 lights and 50 Martin Exterior Wash 210 lights, the resulting rig offers full coverage and quad color-mixing throughout the Mosque's perimeter, providing impactful and energy-efficient illumination for the minaret tower, domes and façade.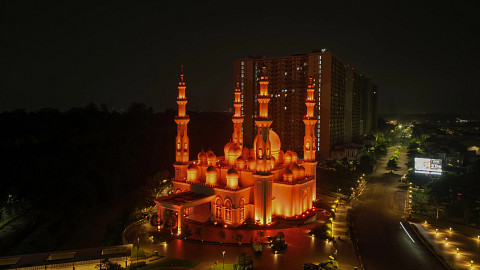 A spokesperson from PT Chayolite reported that Martin Exterior Series delivered the perfect selection of compact and discreet lighting with powerful intensities, easy installation and user-friendly controls.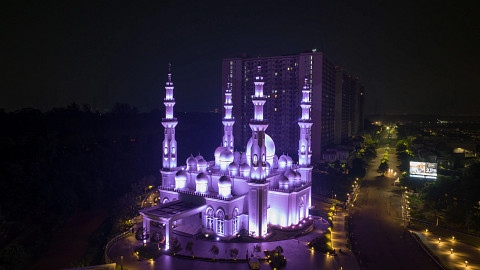 "Working as a team with PT Chayolite and PT Buana Primalite Abadi Sukses, we overcame several challenges and managed to bring out the grandeur of At-Thohir with Martin's selection of lighting products," said Amar Subash, VP & GM, HARMAN Professional Solutions of APAC. "It is an incredible project, and we are honored to play a part in lighting up the beautiful façade of this highly acclaimed mosque in the heart of South Jakarta."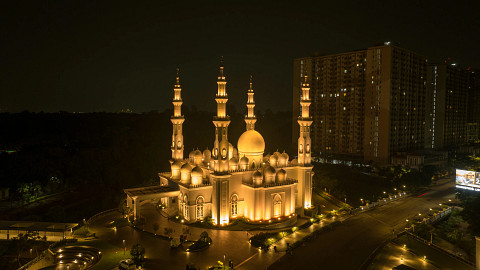 ABOUT HARMAN PROFESSIONAL SOLUTIONS
HARMAN Professional Solutions (pro.harman.com) engineers and manufactures audio, video, lighting and control products for entertainment and enterprise markets, including live performance, audio production, large venue, cinema, retail, corporate, education, government, hospitality, broadcast and more. With leading brands including JBL Professional®, AKG®, Martin®, AMX®, Soundcraft®, BSS Audio®, Crown®, dbx Professional®, and Lexicon Pro®, HARMAN Professional delivers powerful, innovative and reliable solutions that are designed for world-class performance. HARMAN Professional Solutions is a Strategic Business Unit of HARMAN International, a wholly-owned subsidiary of Samsung Electronics Co., Ltd.
Interested in getting other Lighting Connections articles delivered right to your inbox?
SUBSCRIBE NOW