RIVERSIDE, Calif. – Over the past year, the pandemic created an array of challenges for churches across the country.
As many worship spaces for much of 2020 were closed to live services, though, it created an opportunity for some churches. Installation projects that typically would need to work around services, could successfully be finished without such juggling.
For Harvest Church, whose main campus typically averages 20,000 weekly attendees, the significant lighting upgrade was finalized about six months ago.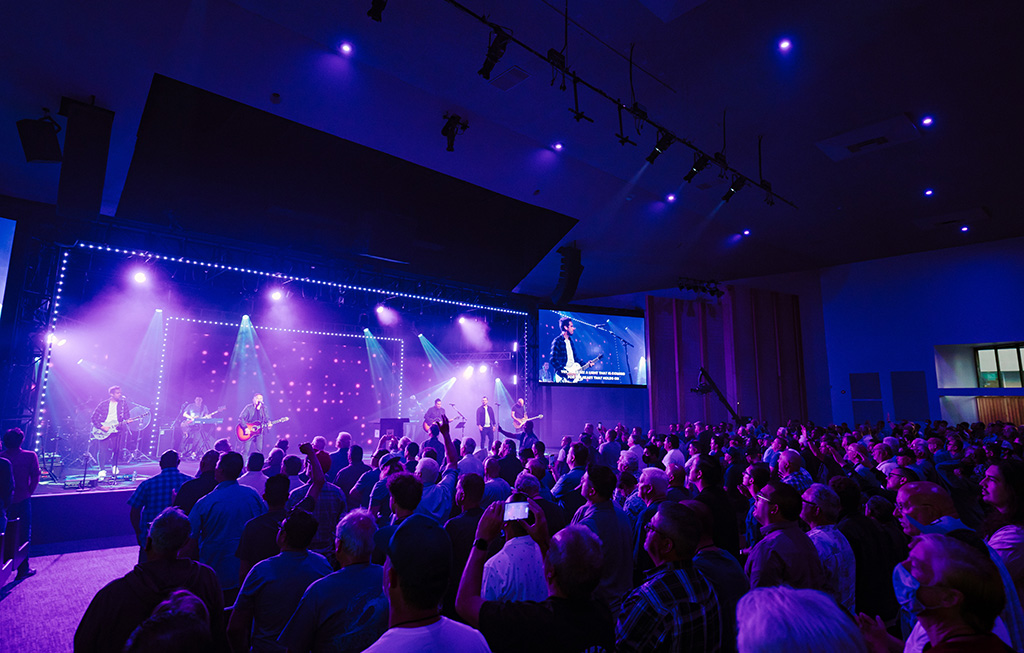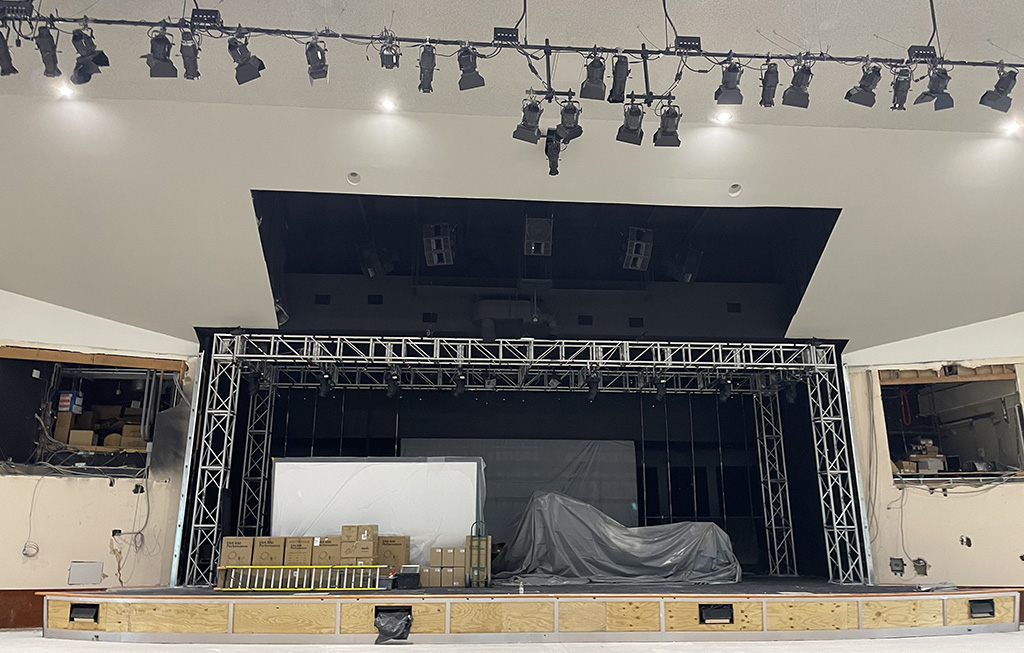 The install featured notable updates to the church's house and stage lighting. The last time the church completed notable lighting updates at their main campus in Riverside, was about 13 years ago. In the months before the install, the age of the equipment was beginning to show.
"Our house lights had been going bad for a while," said Christopher Eguizabal, production supervisor at Harvest. "We'd been talking about changing our house lights for years."
Finding the Perfectly Matched Partner on a Project
In looking for the right firm to help complete the comprehensive project, Harvest selected E2i Design, based in Brighton, Michigan.
The company guided the church in the project's design, provided the equipment and helped with the install, cited Josh Holowicki, founder and CEO of E2i Design. "We've been working with Chris and Harvest in a variety of ways, since about 2014 or 2015. This was the first major upgrade at this campus we've worked on," Holowicki said. "They needed to make a big investment for their lighting system. They were now looking for something with a little more oomph."
Upgrade Needs Become Glaring at Harvest
The previous consequential lighting upgrade, explained Eguizabal, was tied to its ramped up broadcasting needs 13 years ago. With issues arising with greater frequency using its aging gear, the time had come to upgrade.
"The house lights were halogen bulbs. With dozens of events every week, the lights were going out and flickering, and becoming a distraction," he noted. "Such a significant upgrade would have required us to shut the building down for a few months. Then COVID happened."

At Harvest, when indoor services were cancelled for much of 2020, the church alternatively hosted outdoor services.
"Since we were already outside, it made sense to move forward with the upgrade," added Eguizabal.
By completing the house and stage lighting project, without working around services, "we did the install on time," said Holowicki. "We avoided any interruptions to regularly scheduled services. Many logistical pieces needed to be navigated and it went flawlessly."
A number of major lighting manufacturers were considered for the upgrade's gear, including Martin, Elation and Chauvet, explained Holowicki. Much of the equipment replaced in the upgrade was an array of fixtures from Martin, including the MAC 250.
"We seek to have our lighting fixtures serve as workhorses," noted Eguizabal. "The Martin fixtures we were using, had lasted a long time." Upon reviewing the company's latest fixtures, "it was safe to stay (with Martin), and that they'd be a really good fit for what we do."
In seeking the ideal match, detailed Holowicki, "We were really working to find the right profile fixture to use." Among the options to "make stage and key lighting improvements, were those meeting Chris' desires for a bright, punchy light."
Harvest Turns Again to Martin for Lighting Upgrades
While the church brought in "demo units from many manufacturers," noted Eguizabal, successfully meeting a delivery date was a crucial factor. "If the manufacturer couldn't (meet that date), we didn't consider them."
With the church's extensive experience with Martin lighting fixtures, though, the reasoning behind staying with Martin went beyond the gear.
"They are very good at customer service," explained Eguizabal. "In addition, they're good at fixing any issue. They had great fixtures coming out, and we were upgrading as they were coming out."
Among the fixtures featured in the recent install, were a combination of Martin ERA 800 Performance fixtures, MAC Aura XB fixtures for the wash lights, and the ELP CL for key lighting improvements. The new lighting gear added to the space, though, wasn't exclusively from Martin, detailed Holowicki. "We also put in Chroma-Q ColorForce II 12s, which we used often for scenic and stage wash," he added.
Arriving at those fixture selections required some research, beginning with seeing the gear up close. "We went to LDI to see everything we could. We had an idea what we wanted, as I wanted a punchy profile fixture," noted Eguizabal. "As far as key lighting, with the color temperature variations for the events we do, everything fell into place."
Following that review of available products, Eguizabal found Martin's ERA 800 Performance fixtures as most suitable. In addition, he said, the church added "a half dozen Chroma-Q Color Force 12s, which are our sight lights."
Change Plays Out in a Couple of Months
Once the install project received approval, stated Eguizabal, the first step was to purchase the gear in December. After that, what followed was the completion of the first aspect of the project, the space's house lighting.
"We took delivery (on the gear) in early January," noted Eguizabal. "The house lighting was done that month, and was installed by E2i Design."
The chosen fixture for the house lights in the Harvest Church worship space "was the Chroma-Q Inspire. With it, we had fully immersive and fully enveloping house lighting over the audience," said Holowicki. "It's very obvious when you walk through the door, major changes have occurred."
Encompassing the house lighting portion of the project were 22 Chroma-Q Inspire XT fixtures, 22 standard Inspire fixtures, and a Chroma-Q Inspire control box. "It was a retrofit, so we just replaced the fixtures," noted Holowicki. The space also included a drop ceiling, allowing for E2i Design to also incorporate the use of Chroma-Q's Inspire Ceiling Kit.
Gains Achieved Through Improved Lighting
In terms of what immediately became apparent, following the install of the Inspires, Eguizabal added, "Everything is brighter, substantially brighter. It's much more even, and not so shadowy."
That stark improvement, explained Eguizabal, resulted in part from moving on from 250-watt fixtures to 800-watt fixtures in the worship space, "with better color mixing and saturation. We are now able to bathe the room in color, and the stage and crowd more. It's a night and day difference."
With the space's dramatically improved house lighting, "it serves as our biggest tool right now. It really helps in setting the tone of the room," said Eguizabal. "From the warm, right to dramatically cold white, can help with the theme of the message. Therefore, we're able to convey the emotions or illustrations of messages, and create the walk-in vibes the worship team wants."
In the months since the install, the feedback about the install has been exemplary, noted Holowicki. "We've received really incredible feedback from both the tech teams and lead pastors. Now, the teams enjoy how the equipment opened up new and exciting options they hadn't had before."