When you're putting together a sound system for your church, one of the first things you need to look at is a mixer. After all, your entire system revolves around it! It provides your audio inputs and outputs, microphone amplification, routing, and more. So where do you start? First of all, you'll need to consider how many inputs you're going to need for your PA. Are you mixing just a single vocal, a full band, multi media? Remember that staff / volunteer-friendliness is crucial. Churches can benefit from a lighting console that suits their needs or that can even grow with them as they expand. Let's take a look at some of the boards being ordered or installed.
---
1. Mega-Lite Mega Console
The MEGA CONSOLE is the first console to feature three control platforms in one package, including Lumen8, Enlighten, and Disco. The software programs range from a simplified introduction to the control platform to advanced production and theatrical control. All three programs include simple fixture profile builder, multi-universe output via Art-Net, direct fader channel programming, and simplified built-in 3D visualizer. Fully Embedded lighting console with Enlighten, Lumen8 and Disco, 21″ touch screen, 18 assignable faders, 16 assignable hot keys, backlit buttons, 11 Encoder wheels, Audio In and out, HD video out via HDMI, Built in trackball mouse, 4 Dmx outputs on board, additional universes via Artnet.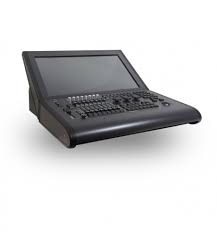 SPECIFICATIONS
Output Protocols: DMX-512, Art-Net
Output Specifications: 4 universes built in + 24 universes using Art-Net output Nodes
Cue Sequences: Unlimited cues/sequences per fader cue list
Softwares: ENLIGHTEN, LUMEN8, DISCO
Saving Features: Back up and restore show file to USB to recall any Enlighten presets; Product auto-generated from fixture profiles or can be made custom
Playback Control: 16 assignable cue triggers, 8 assignable cue faders, unlimited playback pages with 8 graphical button groups (Visual Cue List) per page, multi-layer HD video output via HDMI out, No limit on sequences, 12288 channels of DMX, AI button creator – automatically create shows in seconds
Programming Control: Built-in effects such as RGB, movement, specific channels/traits, Real time and generated FX, Built-in 3D visualizer to visualize colors/Gobos and beams, Virtual matrix that allows any color mixing fixture patched to become part of a matrix, Supports multi-segment fixtures, Up to 10 fixture views to layer fixture layouts, Pan and tilt tracking for all channels as an option, Speed sensitive pan, tilt and focus wheels
Dimensions: 23″ X 26″ X 12″
Weight: 45 lbs
REASONS TO BUY
4 Universes Built in +24 Universes Using an Art-Net output Nodes
16 Assignable Cue Triggers
Built-in Effects
REASONS TO AVOID
---
2. Avolites Quartz 16-universe Lighting Console
Avolites' most compact full-featured lighting console, Quartz is the newest member of the Titan Mobile family. Powered by Titan software, Quartz features onboard processing and a vibrant 12.1″ touchscreen with intuitive pixel mapping, making it the ideal creative tool for all your lighting designs. Boasting the same high-quality faders and hardware as Avolites' larger consoles, Quartz is small enough to go anywhere you go and is built tough. Offering full Multi User compatibility, Quartz is also perfect for use as an additional or backup programming surface, saving you precious programming time. Quartz is ready to take advantage of the multiband Sound-to-Light triggering functionality offered by Titan software version 9.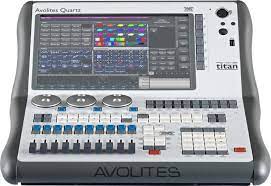 SPECIFICATIONS
Type:Lighting Controller
DMX Modes:8192 channels, 16 x DMX universes
Compatibility:DMX-512
Connectivity:1 x Ethernet, 1 x 5-pin DMX, Bluetooth, MIDI in, 2 x USB type A, 1 x 1/4″ (in), 1 x 1/8″ (headphones), 1 x DVI-D
Faders:10 x playback
Power Source:Standard IEC AC power cable
Height:7.6″
Width:18.3″
Depth:16.7″
Weight:17.6 lbs.
REASONS TO BUY
1 Gigabit Ethercon port for Titan Net, Artnet, and streaming ACN
16 DMX Universes (8192 channels) with ArtNet or sACN
Expandable to 64 Universes via Titan Net Processors
REASONS TO AVOID
3. ChamSys QuickQ 30 4-universe Compact Lighting Console
The ChamSys QuickQ 30 is a compact, 4-universe lighting console with an icon-based interface that supports gesture support just like a smartphone. It's so intuitive, you don't have to be a lighting professional to use it. Students, volunteers, and lighting pros alike will appreciate the power and simplicity of the QuickQ 30. Onboard Wi-Fi allows remote control from your phone or tablet — which can also function as a second external monitor. The QuickQ 30 is ideal for medium-to-large shows in all types of venues.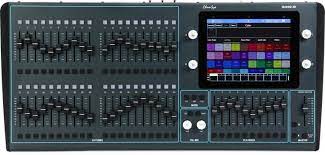 SPECIFICATIONS
Type:Lighting Console
DMX Modes:2048 Channels, 4 x DMX universes
Compatibility:DMX-512, Art-Net, sACN
Connectivity:1 x Ethernet, 3 x 5-pin XLR (DMX out), MIDI in/out, 2 x USB, 1/8″ audio in/out
Faders:40 x Fixture, 10 x Playback, 1 x Master
Software:MagicVis visualiser
Power Source:12V DC, 1A power supply (included)
Height:4.17″
Width:29.92″
Depth:13.78″
Weight:13.45 lbs.
REASONS TO BUY
Supports output of DMX over a network via ArtNet/sACN/Pathport
MagicQ playback compatibility
Compatibility with RDM-compliant fixtures
REASONS TO AVOID
---
4. Obsidian NX Wing Lighting Controller
Achieve new levels of lighting system control with the mobile, lightweight Obsidian NX Wing — the official USB control surface for the Obsidian ONYX platform. The NX Wing's ruggedly built, intuitive design and high-quality components stem from the widely popular NX 2 console. Yet at a single-handed carry and mere half-desk size, the NX Wing is perfect for the pro-minded mobile lighting operator. Ten 60mm faders, each with four assignable buttons, and four large-format digital rotary encoders, alongside eight multi-function hotkeys, 10 playbacks, and an internal touchscreen, equip this grab-and-go controller for sophisticated lighting setups. You'll also find a Master Go section (Go/Pause/Snap/Release) for quick access to key functions.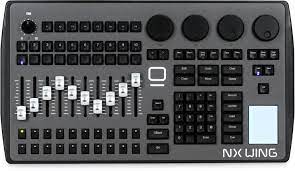 SPECIFICATIONS
Type:Lighting Controller
DMX Modes:ONYX Premier 64 Universe License
Compatibility:Art-Net/X-Net/sACN/Remote operation (ethernet required)
Connectivity:4 x DMX, SMPTE Timecode, and Midi in/out/thru, 1 x USB type B
Faders:10 x 60mm playback faders
Software:Obsidian ONYX
OS Requirements – PC:Windows 10/11-64bit, Intel Core i3, 8GB RAMM, 40GD SSD drive space
Power Source:12V DC, power supply (included)
Height:3.9″
Width:21.3″
Depth:11.9″
Weight:10.2 lbs.
REASONS TO BUY
Ten 60mm with four assignable buttons each
Four large-format digital rotary encoders
Eight multi-function assignable keys
REASONS TO AVOID
---
5. Avolites Titan Mobile DMX Lighting Console
The Avolites Titan Mobile blends powerful hands-on lighting control with smart software effects for seriously pro results. Titan Mobile boasts 10 luxurious smooth-action playbacks, three luxurious metal optical encoders, and a host of assignable buttons for seamless touch integration with Titan software. Four physical 5-pin DMX outputs (expandable to 16 with ArtNet) are capable of controlling your entire rig. Expandable wings (not included) grow your control surface as your needs do. Even better, Titan Mobile is USB powered — just bring your laptop and you're good to go. A hard cover, carry bag, and license for Avolites Titan software are included.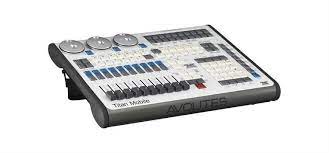 SPECIFICATIONS
Expandable control surface for Avolites Titan software — license included
Seamless hands-on integration
10 smooth playbacks with 3 luxurious metal encoder wheels
Assignable buttons for custom control functions
Four 5-pin DMX outputs (expandable to 16 with ArtNet)
Optional wings (not included) further enhance the software experience
MIDI Notes/Timecode support
Powered from your laptop's USB port
Includes hard cover and carry bag
Required: PC running Windows 7 SP1 or higher (32- or 64-bit)
Minimum specs: Intel i5 2GHz processor, 4GB of RAM, and SSD drive with 10GB of free space
REASONS TO BUY
Required: PC running Windows 7 SP1 or higher (32- or 64-bit)
Minimum specs: Intel i5 2GHz processor, 4GB of RAM, and SSD drive with 10GB of free space
Four 5-pin DMX outputs (expandable to 16 with ArtNet)
REASONS TO AVOID
---
6. Behringer LC2412 V2 512-Ch 24-Fader DMX Controller
With 24 preset channels assignable to 512 DMX channels, the Behringer Eurolight LC2412 V2 gives you comprehensive control over your lighting. You can control up to three DMX channels per preset channel, and two additional multi-function channels let you control fog machines, color changers, and more. The built-in MIDI interface for connecting two Eurolight LC2412s provides double the hands-on control. Factor in the flexible fade functions, an integrated chaser with up to 650 steps, and sync-to-bass, and you've got loads of creative potential in the Behringer Eurolight LC2412.
SPECIFICATIONS
Type:Lighting Console
DMX Modes:24 channels, 512 DMX channels, 3 DMX channels per console channel
Programs:120 Memories, 99 Chases, 650 Steps
Compatibility:DMX 512, MIDI, Analog Out (0-10V DC)
Connectivity:1 x 5-pin XLR (DMX out), MIDI In/Out, 1 x DB-15 (analog out), 1 x 1/4″ (analog in)
Faders:24 x channel, 3 x master, 3 x Function
Power Source:Standard IEC AC cable
Height:4.18″
Width:17.5″
Depth:11″
Weight:8.3 lbs.
REASONS TO BUY
Compatible with the LD6230 Dimmer Pack
Saves up to 120 custom scenes across 10 banks
24-channel DMX controller with 30 faders
REASONS TO AVOID
Limited to One Universe of 512 Channels
---
7. ADJ WMX1 Standalone DMX Lighting Controller
If you're tired of lugging computers to and from gigs, the ADJ WMX1 Standalone DMX Lighting Controller is for you. Housed in a compact, road-ready chassis with tactile controls, the WMX1 lets you whip up high-impact, complex light shows on the fly — no computer required! Its streamlined workflow, powerful built-in effects engine, and intuitive control set make it easy to take command of a DMX lighting rig with different fixture types. The WMX1 is powered by Wolfmix, a robust modern protocol for standalone DMX lighting control, which makes your WMX1 sync-compatible with other Wolfmix-powered controllers. Enjoy the grab-and-go convenience of self-contained DMX lighting control without compromise: step up to the ADJ WMX1 Standalone DMX Lighting Controller.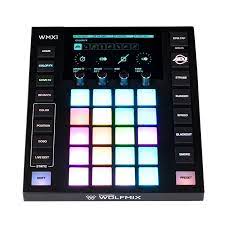 SPECIFICATIONS
Type:DMX Lighting Controller
Connectivity:2 x 3-pin DMX, 2 x 5-pin DMX, 1 x Type-B USB, 1 x 1/8″ (line in)
Power Source:USB type B bus power
Height:2.44″
Width:7.68″
Depth:8.66″
Weight:2.36 lbs.
REASONS TO BUY
Up to 50 fixture types; up to 680 fixtures and beams
Up to 5,000 fixture features (color, gobo, etc.)
6 projects; 8 fixture groups
15,000+ available fixtures (3,500+ onboard)
REASONS TO AVOID
---
8. Chauvet DJ Obey 70 384-channel DMX Lighting Controller
The Chauvet Obey 70 DMX lighting controller offers you the convenient portability of a compact controller with many of the advanced functions you'd only expect from a full-sized lighting board. With 14 reversible faders onboard, you can easily take control of up to 12 intelligent lights and 384 channels of DMX with the Obey 70. A total of 30 banks of eight instantly selectable scenes lets you set up complex shows, and a set of six chase effects controls makes adding energy to your worship performance easy. Top it all off with fog and strobe control, beat activation, an assignable pressure-sensitive joystick, and more, and it's no wonder the Chauvet Obey 70 has small churches everywhere talking.
SPECIFICATIONS
Type:Rackmount Lighting Controller
DMX Modes:384 x Channels, 240 x Scenes
Connectivity:1 x 3-pin XLR (DMX), 2 x 5-pin MIDI, 1 x 1/4″ (remote)
Faders:14 x Fixture, 1 x Speed, 1 x Fade
Power Source:9V DC Power Supply (included)
Height:7″ (4U)
Width:19″
Depth:2.8″
Weight:7.3 lbs.
REASONS TO BUY
Support for up to 12 intelligent lighting fixtures
Provides up to 384 channels of DMX control
Store 30 banks of 8 scenes for a maximum of 240 scenes
Enhance light shows with 6 sets of chase effects containing 240 scenes
Reason To Avoid
9. ChamSys MagicQ MQ80 48-Universe Compact Lighting Console
The ChamSys MagicQ MQ80 is a powerful, compact lighting console with direct support for 48 universes and four RDM-compatible DMX ports. MagicQ MQ80 sports a large 12″ high-resolution display for easy access to all MagicQ features, including the Plot window where you intuitively select and focus fixtures graphically. For complete compatibility with the entire MagicQ range of products, MagicQ MQ80 is driven by the same MagicQ software found on all MagicQ consoles and uses the same show file formats. MagicQ MQ80 can be connected over a network to macOS and Windows computers running the free ChamSys MagicVis lighting visualization software, or for output of up to eight layers of HD media, MagicHD media player software at no additional cost. Despite its massive professional lighting capabilities and tour-tough build quality, the MagicQ MQ80 is extremely compact and lightweight (just 17.5 pounds) and complies with airline checked luggage regulations.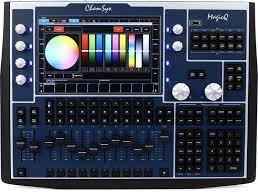 SPECIFICATIONS
48 Universes directly accessible from the console
Complies with airline checked luggage regulations
12″ multi-touch Display
10 Playback faders, 200 Pages; 8 Attribute encoders
20 Execute buttons
External monitor compatibility (full HD, touch)
Includes MIDI, Audio and Timecode input support
RDM support via direct DMX ports and network
Channels: 24576; number of fixtures: Up to 24576
Cues: 5000; Groups: 5000
4 x 5-pin XLR DMX ports
Network ports: 4
USB ports: 6 (including 1 on front panel for easy access)
Audio in jack
MIDI: Notes, TC, Show Control
LTC in/out
Remote input port
Wing support; multi console support
1 dual-color, dimmable LED console lamp
UPS (uninterruptable power supply)
Dimensions: (WxDxH) : 22.5″ x 15.9″ x 4.3″
Weight: 17.5 pounds
REASONS TO BUY
Channels: 24576; number of fixtures: Up to 24576
Cues: 5000; Groups: 5000
4 x 5-pin XLR DMX ports
Network ports: 4
USB ports: 6 (including 1 on front panel for easy access)
REASONS TO AVOID
10. ETC Eos Apex
ETC's flagship Eos Apex consoles enhance the familiar Eos interface with industry-leading hardware built for comfort and customization. Features include generous 4K displays, haptic-feedback touchscreens and encoders, Target Keys, book lights, charging ports, motorized playbacks (5, 10 or 20) with dedicated scroll wheels, and a flexible I/O Garage to mix and match outputs. Within the desk, the Eos software—the product of two decades of ongoing development—boasts a 3D-programming and visualization suite, interactive Magic Sheets, award-winning color tools, a full effects suite, and more.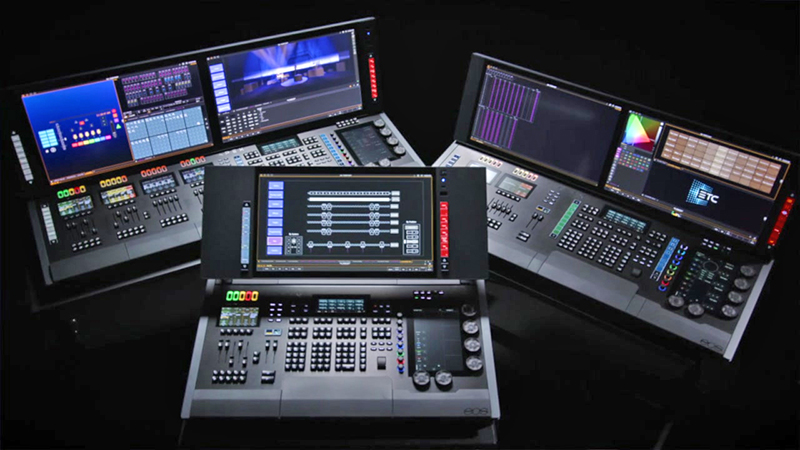 SPECIFICATIONS
Output Addresses: 24,576
Hardware Class Compatibility: Apex, Gio, Ion
USB 3.1 Ports:
Displays Supported: 3x Display Port, up to 4K multitouch
Networking Interface:

4x Gigabit Ethernet, ethercon connectors, PoE++ (802.3bt compliant PSE); individually configurable
2x SFP+ 10 Gigabit Ports (copper or fiber sleds sold separately); individually configurable

Power Consumption (approx.): 6A
Ambient Room Temperature: 0°–35°C (32°–95°F)
Ambient Humidity: up to 90% non-condensing
Dimensions (HxWxD): 19.64″ x 56.00″ x 25.53″ (499 x 1422 x 648 mm)
Weight: 147 lbs (66.68 kgs)
REASONS TO BUY
Displays Supported: 3x Display Port, up to 4K multitouch
Networking Interface

4x Gigabit Ethernet, ethercon connectors, PoE++ (802.3bt compliant PSE); individually configurable
2x SFP+ 10 Gigabit Ports (copper or fiber sleds sold separately); individually configurable
REASONS TO AVOID