A video switcher is a device or software that allows you to switch between multiple cameras while live streaming. They also let you switch between scenes, launch different types of media, and adjust audio levels. When you have a multi camera set-up for your live broadcast, you want to be able to switch between each camera feed in real time and have more control over your broadcast. Using more than one camera for your live stream helps make it look more professional, especially if you have more than one person on your stream or you're broadcasting a live event. In this Gear Report, we'll guide you on your search for a product that fits your budget and needs.
---
1. Blackmagic Design ATEM 4 M/E Broadcast Studio 4K Live Production Video Switcher
The ATEM 4 M/E Broadcast Studio 4K video switcher is undoubtedly one of the most cutting edge broadcast switchers of its class and you can bet it has all the goods to back up such praise, from its 20 12G-SDI inputs to its 16 ultra-advanced Chroma Keyers (4 per M/E) . Plus 3840 x 2160 video resolution, Creative controls that give you the freedom to further customize your broadcasts with effects, transitions, scaling, and more as you see fit, all in real time. On its front panel, intuitive assignment buttons and a single live-feed screen keep the ATEM 4 M/E Broadcast Studio 4K switcher free of clutter, removing the stresses of high-stakes switching.
SPECIFICATIONS
Type:Live Production Switcher
Channels:20
Video Inputs:20 x BNC (SDI)
Video Outputs:5 x BNC (SDI)
Audio Inputs:2 x XLR, 1 x Dual Stereo RCA
Audio Outputs:4 x XLR
Headphones:2 x 3-pin XLR (talkback, I/O)
USB:Type B
Other I/O:1 x RJ45, 1 x BNC (ref in), 2 x XLR (timecode), 1 x RS-422
Power Source:2 x Standard IEC AC inputs
Height:3.54″ (2U)
Width:19″
Depth:9.25″
Weight:10.58″
REASONS TO BUY
Production Quality 4K
Chroma Keyers
REASONS TO AVOID
---
2. SONY XVS-9000 4K/3G/HD multi-format IP-ready video switcher
The XVS-9000 expands 4K production capacity, offering more inputs and outputs plus new 4K 3D DME capabilities. Advanced IP and SDI interfaces are compatible with the full XVS switcher line-up. Optional 100G IP interface boards support SMPTE ST 2110 standards, both in 4K and HD in a single stream, while 12G SDI interface boards increase flexibility further by enabling IP/SDI hybrid operation.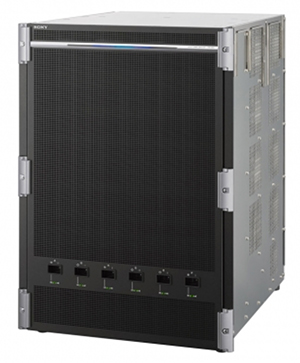 SPECIFICATIONS
Maximum number of inputs BNC (x 160) for primary inputs
Maximum number of outputs BNC (x 80) for outputs
BNC (x 16) for format converter outputs/Multi Viewer (4CH)
AC IN A, B, C, D, E, F
3-pin AC connector
Reference Input REF IN BNC type, 75Ω with loop-through output HDTV systems: HD tri-level sync/SDTV analog black burst/SDTV analog sync
Weight Approx. 87 kg (when equipped with all installable option boards)
REASONS TO BUY
Studio quality 4k
IP & SDI Interfaces
3D Capabilities
REASONS TO AVOID
---
3. Roland V-8HD
Roland has been producing high-quality video equipment for a long time, and the V-8HD lives up to the name. The V-8HD is flexible as well, allowing up to eight video sources, including a game console, camcorder, smart device, and PC.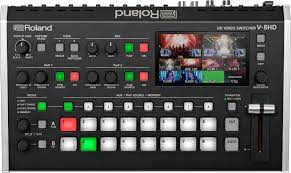 SPECIFICATIONS
Features
Type:HD Video Switcher
Channels:8
Video Inputs:8 x HDMI
Video Outputs:3 x HDMI
Audio Inputs:1 x Dual RCA Stereo
Audio Outputs:1 x Dual RCA Stereo
Headphones:1 x 1/8″ (stereo)
USB:1 x Type B, 1 x Type A
Other I/O:2 x 1/4″ TRS (control/expression footswitch)
Effects:Visual Effects, Transitions, Delay, EQ, Compressor
Power Source:External AC Adapter (included)
Height:2.81″
Width:12.5″
Depth:7.62″
Weight:4.40 lbs.
REASONS TO BUY
Five-layer effects
18-channel digital audio mixer
Lightweight and portable
REASONS TO AVOID
---
4. Ross Carbonite Black Solo
On the Ross Carbonite Balack solo switcher, everything is customizable. It's a budget-friendly option for those who want to assign their own inputs, outputs, buttons, format converters, and more.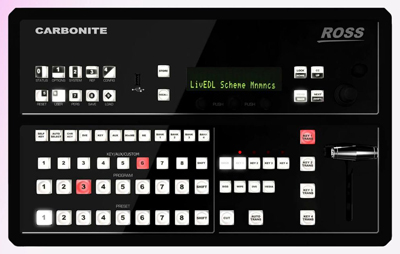 SPECIFICATIONS
6 3G-SDI inputs and 3 HDMI inputs
5 3G-SDI assignable outputs and 1 HDMI assignable output
Multiview assignable to any of the 6 outputs
Supports 1080p
REASONS TO BUY
Ships with graphics software license
2 Mini MEs with 2 keyers
Small, portable switcher
Video clip playout directly from connected USB-media drive
REASONS TO AVOID
Limited features compared to other switchers in the same price range
---
5. Elgato Stream Deck
A stream deck lets you control elements like lighting and mics in addition to your media and video sources. The Stream Deck is popular among live streamers because it integrates seamlessly with other Elgato streaming products and has video switching capabilities.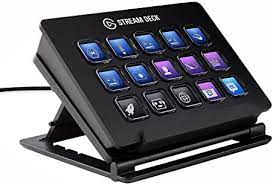 SPECIFICATIONS
15 customizable LCD keys
One input/output connection to Mac or PC via a USB 2.0 cable
Type:Customizable Desktop Interface
Keyboard Layout:32 Customizable LCD Keys
Computer Connectivity:USB 3.0
Dimensions:7.17″ x 4.41″ x 1.34″
REASONS TO BUY
Beginner-friendly
Extremely lightweight
Works with major streaming services
REASONS TO AVOID
Relies on PC to execute commands programmed into Stream Deck
---
6. RGBlink Mini
If you want a foolproof video switcher without any extra bells and whistles, then you want the RGBlink Mini The device only has nine buttons/knobs to work with and is one of the easiest hardware switchers to operate.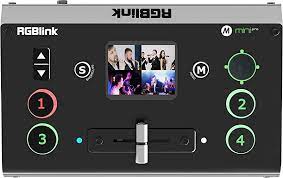 SPECIFICATIONS
4 HDMI inputs
1 HDMI output and 1 USD 3.0 output
T-bar for smooth transitions between sources
Supports PTZ (pan-tilt-zoom) camera
REASONS TO BUY
Large buttons for easy actions
Supports 1080p
PIP presets
REASONS TO AVOID
---
7. Roland Professional V-1HD
The Roland V-1HD, while small in size, is a professional-quality switcher with a built-in audio mixer, PIP, and green-screen effects. And with Preview/Program video switching, you can always ensure good results.

SPECIFICATIONS
4 HDMI inputs
Supports 1080p
2 HDMI outputs
Control from iPad
REASONS TO BUY
Simple interface
Two automatic switching modes
T-fader to manipulate transitions
REASONS TO AVOID
Doesn't support DSLR cameras
Software sold separately
---
8. Lumantek ez-PRO VS10
With the ez-PRO VS10, you get ten inputs, which is more than most of the others on this list. It also has advanced multiview, PIP, and effects options so you can pull off an outstanding live broadcast.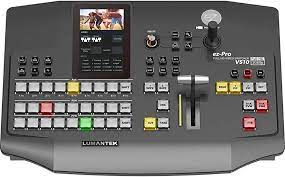 SPECIFICATIONS
8 SDI inputs and 2 HDMI inputs
6 SDI outputs and 2 HDMI outputs
Supports 1080p video
REASONS TO BUY
2 PIP capabilities
Quiet fan
All SDI inputs can take Fill & Key signals
You can configure your own layout
REASONS TO AVOID
---
9. ATEM Television Studio HD
The ATEM Television Studio HDswitcher by Blackmagic Design is designed for live video production. The all-in-one functionality of the ATEM television switchers brings you quality good enough to be on TV.

SPECIFICATIONS
Type:Video Mixer
4 SDI and 4 HDMI inputs
Supports HD video
Talkback audio
REASONS TO BUY
Lightweight and portable
Position, scale, and resize live video
Control Blackmagic Studio Camera remotely
REASONS TO AVOID
---
10. Blackmagic Design ATEM SDI Extreme ISO Video Production Studio with 9-stream Recording Engine
The Blackmagic Design ATEM SDI Extreme ISO is one of the most comprehensive video mixers on the market today. This 12-channel video mixer packs all the functionality and features of the ATEM SDI Pro ISO but brings eight standard converted 3G-SDI inputs and four SDI outputs to the table. It also features a DaVinci project file and Blackmagic RAW file relinking for lightning-quick editing in post-production. With stunning features like direct streaming via Ethernet, direct recording to USB flash disks, USB webcam connection, and more.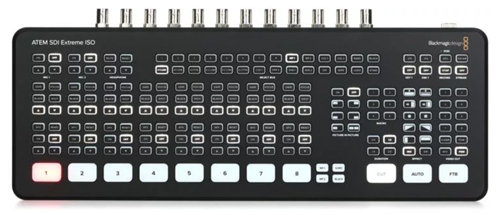 SPECIFICATIONS
Type:Video Switcher
Channels:8
Video Inputs:8 x BNC (SDI)
Video Outputs:4 x BNC (SDI)
Audio Inputs:2 x 1/8″ TRS
Headphones:1 x 1/8″ TRS
USB:2 x USB-C
Other I/O:1 x RJ45 (ethernet)
Software:ATEM Software Control Panel
Power Source:12V Power Supply
Height:1.56″
Width:14.56″
Depth:5.64″
Weight:3.13 lbs.
REASONS TO BUY
Da Vinci project file
Direct Recording
REASONS TO AVOID
---
11. FOR-A HVS-6000/6000M 4K/HD Video Switcher
The HVS-6000 provides 12G-SDI capability on all inputs and outputs (80 inputs/32 outputs or 64 inputs/48 outputs), with an optional board-mounting connector allowing IP interfaces to be mounted on all I/O slots. Thus, the HVS-6000 can be migrated to an SMPTE ST 2110-capable switcher. Providing an ideal upgrade path from HD to 4K UHD, there is no need to replace the entire switcher when looking to upgrade.
SPECIFICATIONS
Up to 80 in/32 out or 64 in/48 out, all inputs and outputs support 12G-SDI Single Link
IP input/output support planned for future use
3 M/Es with split M/E, 4 keyers per M/E
Frame synchronization and still store available for inputs
Upconversion*1*2 from HD to 4K on all inputs and downconversion*2 from 4K to HD on all AUX outputs are supported.
Control panels: HVS-2120ROU, HVS-2240OU, HVS-3320OU and HVS-3355OU (custom-ordered)
*1 To be supported *2 Optional

TWO OPTIONS AVAILABLE:
HVS-6000
2 M/E standard, expandable 3 M/E + 4DSK
Up to 80 in/32 out or 64 in/48 out in 12G-SDI
12 RU
HVS-6000M
2 M/E standard
Up to 32 in/24 out in 12G-SDI
7 RU
REASONS TO BUY
Upgradable
4K UHD
Makes large productions easy to manage
REASONS TO AVOID
Designed For Larger Productions
Learning & Training Required
Cost
---
12. FOR-A HVS-100/110
The newest additions to FOR-A's Hanabi series of portable video switchers, the HVS-100 and HVS-110 boast exceptional cost performance. Both mixers inherit and improve upon the diverse functions and features of the popular HVS-300HS, including mixed HD/SD input, frame synchronizing, re-sizing engine, 2.5D wipe effects, DVE, Chroma keyer and DSK. The HVS-100 and HVS-110 also have a built-in Web server that lets you change settings from a PC or a tablet. A clip memory feature has been added to the still store to support playback of video or animations and enhances productions through the use of CG wipes, while the multi-viewer meets a diverse range of monitoring needs. The equipment can be used in all types of locations, including live events, sports, news studios, OB vans, editorial offices and presentation venues, making it the ideal tool for shaping the imaginative ideas of video creators.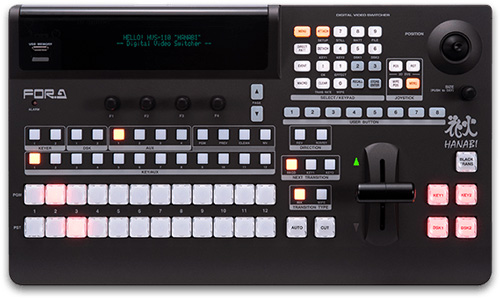 SPECIFICATIONS
Progressive-format, 4K Square Division (SQD) signal support
Level-B signal input support at 1080/59.94p, 50p
Audio playback support
Additional Non-Border display function support and 4K mode layout on Multi Viewer
Multi Viewer split patterns significantly enhanced, from 8 to 20 types
VDCP Over IP protocol available
External keyer control over DSK-400.
HVS-100PCI option supports 1080/29.97p, 25p, 24p, 23.98p
HVS-100PCO option supports 1080/29.97p, 25p, 24p, 23.98p. PC-resolution output also supported at 1080/59.94p and 50p.
REASONS TO BUY
Recently Upgrades New Functions
Compact, multi-functional, and very affordable.
Asynchronous input capability
4 Keyes with 2.5 DVE
REASONS TO AVOID
---