Based in the north Minneapolis suburb of Centerville, Eagle Brook Church is a continuously-expanding Baptist megachurch whose mission is to reach people for Christ. Hosting a weekly audience averaging 20,000, plus another 25,000 online, the church places high importance on its sound quality, evidenced by its music ministry having its own Spotify channel and a previous "rider-ready" touring-class sound system in its worship space. With Eagle Brook wanting to stay at the forefront of sonic quality, in 2021, AVL integrator Summit Integrated Systems organized a four-brand "shoot-out" comparison for a proposed PA for its newest location in Ham Lake, and the resolute winner was L-Acoustics.
Since then, Eagle Brook Church has upgraded the sound systems in five of its eleven locations with various L-Acoustics A10, A15i, and K3i systems. "They wanted sonic consistency from campus to campus," says Deron Yevoli, Director of Projects and Engineering at Summit. "Only L-Acoustics could give them consistent tonality across a product range that allows them to choose the right product for a specific space and room in each church while still having the same sonic signature that lets you know you are in an Eagle Brook church," he says. "That's an accomplishment."
Following the installation of an L-Acoustics A10 system put into service at Ham Lake, Eagle Brook has also installed a K3i system at its Woodbury campus, and A15i systems at the White Bear, Apple Valley, and new Minneapolis locations. "We wanted to introduce them to brands with both excellent large- and midsized-format systems," says Yevoli. "What drew the church to L-Acoustics was the consistent tonality of the systems across the product range and the fact that the array of systems meant they could scale that tonality to all of their church buildings, regardless of size and shape."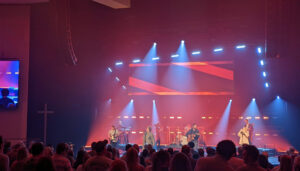 For instance, he points out that the A10 system was a perfect fit for Ham Lake's relatively small—approximately 60 feet from end to end—flat-floored building. The Woodbury location's 1,600 raked seats are more than well-filled by the larger K3i system, yet they share a wonderfully consistent sonic timbre.
"And the church's very tech-savvy Production Systems Engineer, Matt Beckstrom, really loves to dig deep into the digital insides of a system, which L-Acoustics' collaborative tools like Soundvision and its Autofilter feature let us do, to achieve consistent SPL throughout all of the locations," Yevoli adds.
Beckstrom says the L-Acoustics products allow Eagle Brook Church to achieve the critical strategic goal of providing a reliably consistent experience no matter which location a worshiper chooses to attend. "That extends from the kids' programs to the kinds of music to the actual audio and video systems, all of which combine to create the Eagle Brook experience," he says. "We were impressed from the beginning with L-Acoustics' ability to help us achieve that in terms of our sound. We have a range of different boxes in different churches, but the consistency across all of them is impressive. It makes my role as a systems designer so much easier and more effective."
Speaking of design, Beckstrom is equally effusive about the L-Acoustics toolset, citing the fact that those tools are constantly being refined and improved. "For example, Autofilter's frequency range, which had been focused on upper frequencies, has been extended downward, which really helps analyze and optimize for a wider range of spaces and designs," he explains. "And Soundvision has become invaluable to us, allowing us to predict how the sound will play in any corner of a space."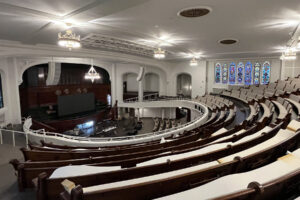 Beckstrom also says he's made extensive use of L-Acoustics Panflex technology, which provides sound designers like him with quick access to a choice of four horizontal directivity patterns: 70° or 110° symmetrical, or 90° asymmetrical on either side. "The asymmetrical capability, in particular, is amazing," he says. "There have been times we've had to make design adjustments even during the installation phase of a project, so having that level of flexibility is huge. L-Acoustics is a big reason why this church sounds as good as it does everywhere."
For more info on Eagle Brook Church, visit www.eaglebrookchurch.com. Summit Integrated Systems can be found online at www.summitintegrated.com.
About L-Acoustics
L-Acoustics is renowned for developing innovative sound systems and technologies that elevate the listening experience. Founded in France in 1984, L-Acoustics currently employs 700 team members worldwide, with headquarters in Paris, Los Angeles, London, and Singapore. Recognized for pioneering the line source array, L-Acoustics continues to shape the future of sound with solutions such as the L-ISA Immersive Hyperreal Sound technology, which offers 3D multi-dimensional audio. L-Acoustics Creations, a division of L-Acoustics, offers exceptional concert-grade sound systems and immersive sound spaces for residential and architectural environments. In recognition of introducing these ground-breaking creative technologies, L-Acoustics was named one of Fast Company's Most Innovative Companies of 2020 and 2023. For more information go to  www.l-acoustics.com.