The new 4K KY-PZ510NBU (black) PTZ Camera features the latest in remote production technology with NDI® 5 support. The PTZ camera also offers enhanced SMART auto-tracking, Vertical Interval Time Code (VITC) with Network Time Protocol (NTP) which provides the new JVC PTZ camera with multi-camera synchronization for seamless live event production.
HEVC SRT 4K60p STREAMING
The KY-PZ510NWU captures images in 4K60p, delivering natural imagery in settings with a lot of movement, such as live and sporting events. HEVC encoding enables the streaming of higher-quality video at lower bitrates for remote production over the internet (REMI). The camera also supports H.264 encoding, which offers increased compatibility with various hardware and software applications.
NDI 5
NDI® 5 is a high-quality, low-latency IP video transmission with an easy network connection. With NDI 5 it allows UVC users to extend the distance between the PC and the camera. The KY-PZ510 PTZ camera can also be controlled with a remote control that supports NDI. Also, UVC for webcam operation is standard on all cameras.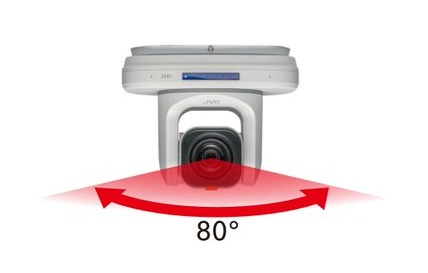 SMART AUTO-TRACKING
The SMART auto-tracking function of the cameras means that operators can set the camera to focus on and follow one person in the view, such as an instructor, pastor, or specific person in live productions
MULTI-CAMERA SYNCHRONIZATION
Multi-camera synchronization of live video streams is made possible with the VITC (Vertical Interval Time Code) and NTP (Network Time Protocol) used in 1080 60p mode. This feature is ideal for mixing and streaming concerts, shows, and sporting events where image synchronization is critical.

The KY-PZ510NBU can simultaneously output NDI®, SRT, and RTMPS for hybrid local/remote workflows to deliver the highest quality distribution to the world's most popular CDNs.