ADJ Lighting is now introducing its new WMX1 standalone DMX control solution to the US market. Developed by throwing out the rulebook of how a lighting control interface should work, the revolutionary new device draws inspiration from music performance technology to deliver a uniquely tactile solution that will appeal to lighting designers who want to have the freedom to perform organically with lights.
Powered by WOLFMIX, an innovative new lighting control engine developed in Europe, the ADJ WMX1 offers a distinctive new hands-on interface for creative lighting control. It's a powerful and compact standalone DMX controller that starts up in under two seconds and is designed for creating high-impact lightshows on the fly without a computer. This is achieved through an intuitive workflow, a powerful internal FX engine, and tactile controls that make it easy for anyone to take control of a DMX lighting rig comprised of multiple fixture types.
Easy setup
Setup of the WMX1 is quick and straightforward, with a menu interface on the 4.3" capacitive touch TFT screen allowing easy selection, addressing, and grouping of fixtures. 3,500+ fixture profiles are included on the controller itself, with more than 15,000 accessible through the supporting WTOOLS app. The WMX1 also features a Fixture Builder, for creating custom profiles or for use with old or obscure fixtures, as well as a Fixture Calibration tool, which allows limiting of the area covered by moving heads. The WTOOLs app also allows the backing up of project files to a computer and to the cloud as well as BPM synchronization with music production or DJ software using the Ableton Link or OS2L protocols.
Once configured, the system allows independent control of up to eight groups of fixtures (four accessible via a Shift key), with 37 backlit silicone buttons and four rotary push encoders allowing three different FX engines (Color, Move and Beam) to be easily triggered and customized independently for each group. Transitions between FX within each group can then either be made instantly or smoothly with two effects playing together during the fade.
The controller can also be heavily customized, with the option to store up to 100 presets for each project and to give custom names to each group. In addition to tactile on-the-fly triggering and customization of FX, the unit can also be setup to auto-play a cue list of presets with custom fade and hold times. It also features separate dedicated buttons for Strobe, Blinder, Speed, Blackout and Smoke, which can be applied at any moment.
The WMX1 features four DMX universes and four output sockets (two 5-pin and two 3-pin) with the ability to map any universe to any output, allowing the unit to also serve as a DMX splitter. Out of the box the system supports a single DMX universe (output via all four sockets), while three additional universes are available as upgrades through the WTOOLS app. It also features both an internal microphone and 3.5mm jack line input socket for automated BPM detection, as well as a button that allows the BPM to be 'tapped in' manually.
A Color Picker interface on the screen, which allows easy selection of just the right hue, can be used both for RGBW and RGBWA+UV LED fixtures. Other useful features include automatic matching of similar GOBOs across different fixture types, Fixture FLIP function (for reversing beam order), Fixture SPLIT function (for splitting up multi-FX bars) and Auto-recovery of the active project (no manual saving needed).
Using the WLINK feature (which requires a software upgrade at additional cost), two WMX1 units can be connected via a 5-pin male to male DMX cable to create a larger control system. The two synchronized units can be used alongside each other, allowing simultaneous access to all eight lighting groups without the need to use the Shift key. Alternatively, the two units could be sited in different locations within a venue. For example, one WMX1 could be installed behind the bar and another in the DJ booth of a lounge venue, allowing control of the lighting by a duty manager in the early evening before the DJ, or a dedicated lighting operator, takes over when the dancefloor begins to fill.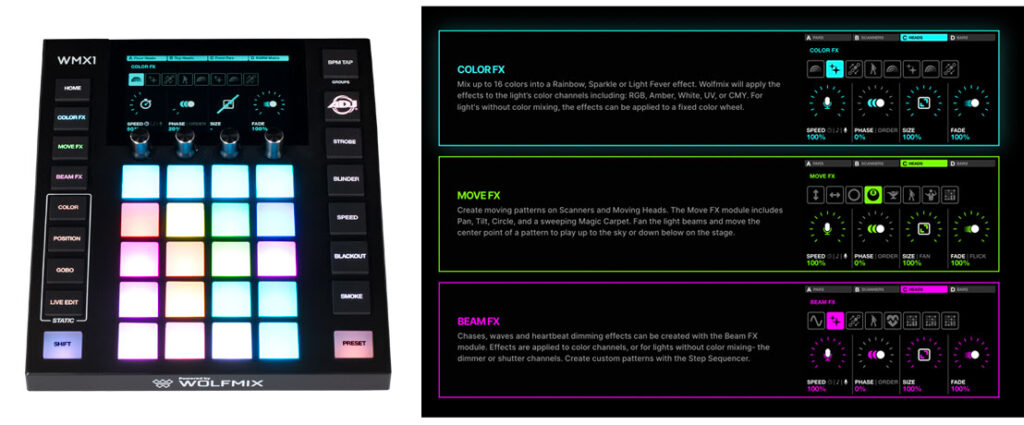 The WLINK feature can also be used to connect a DMX input. This allows the faders on a simple hardware DMX controller – for example ADJ's Stage Setter 8 – to be mapped to provide dimming control over the WMX1's fixture groups. This allows the system to be utilized for applications, such as stage lighting, where tactile dimming control is required.
Another optional extra available for the WMX1 is the Easy View 3D visualization software. This can be used to quickly and simply setup a virtual representation of a lighting rig to allow remote programming of the WMX1 without the need for the actual lighting equipment to be present. It allows fixtures to be added and positioned on a virtual stage, which will then respond to commands from the controller in real-time, emulating the movements, colors, and effects of real fixtures. The software is compatible with Mac or PC and connects to the WMX1 via USB.
Despite its low weight (2.36lb / 1070g) and compact dimensions (7.68" x 8.66" x 2.44" / 195 x 220 x 62mm [LxWxH]), the WMX1 is extremely robust. Inside its tough ABS plastic shell, the unit features a powder-coated steel base plate and reinforced back plate. Its 220Mhz CPU with ARM core and 8MB RAM / 16MB flash memory allow for extremely complex effects to be layered and run independently across multiple groups all in real time.
The WMX1 is available now from ADJ USA, it is not available from ADJ Europe at this time.