The COB Cannon LP200ST harnesses the power of an efficient 200-Watt COB (Chip On Board) LED light source, which generates a potent and even output with no color shadows. This efficient light engine combines red, green, blue, amber and lime LED chips to allow the creation of a huge gamut of colors as well as white light with a variable color temperature of between 2300K and 9900K. The inclusion of the lime LED chip helps certain colors to appear more vivid and also boosts the CRI to in excess of 90. The LED engine has an approximate lifespan of 50,000 operational hours, which essentially removes the inconvenience and expense of lamp replacement.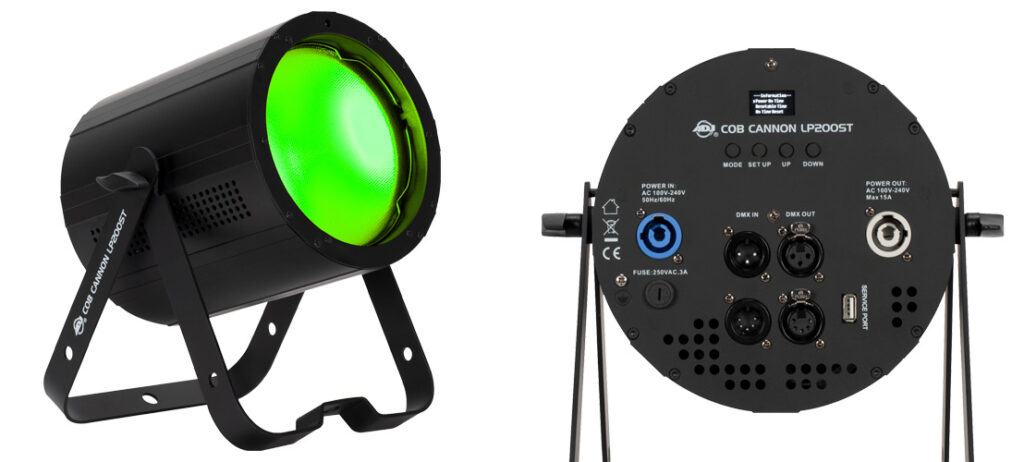 Offering a wide native beam angle of 80-degrees, allowing a large area to be washed with vibrant colored light, the COB Cannon LP200ST is also supplied with a useful lens kit. This comprises both 40-degree and 50-degree lens options, which easily and securely clip to the front of the fixture to provide a narrower beam angle when required. Barn doors for directing the light output are also available as an optional accessory [BAR001 – COB Cannon Wash Barn Doors].
A variety of operational modes make this fixture suitable for use in all kinds of permanent installation and temporary event applications. Colors can be quickly and easily selected directly from the OLED digital display located on the rear panel of the fixture, which features an easy-to-use menu interface navigated using four push buttons. Multiple fixtures can then be linked together using DMX cables for a simple Primary/Secondary setup where subsequent (Secondary) fixtures will mimic the output of the first (Primary) unit. An ADJ UC IR remote control is also supplied with the fixture, which can be used to easily select colors from a distance.
Of course, the COB Cannon LP200ST can also be controlled via DMX and it offers a choice of 10 different DMX modes (5, 8, 9, 10A, 10B, 11, 12, 14, 17 and 21-channel), which can be selected based on the level of control required and the number of channels available in the particular situation in which the fixture is used. As well as full color mixing control over the unit's five primary LED colors, linear white light color temperature control is also facilitated via a single channel and DMX can also be used to remotely select any of the fixture's 64 built-in color macros.
The fixture offers a wide variety of customizable options, allowing it to be tailored to a user's personal preferences or the specific requirements of a particular application. These include 6 selectable dimming modes (Standard, Stage, TV, Architectural & Theatre), 4 selectable Dimming Curves (Square, Linear, Inverse Square & Square Curve) and adjustable Dimming Speed (between 0.1 and 10 seconds). In addition, the LED Refresh Rate can also be adjusted using 14 presets (ranging from 900Hz to 25,000Hz) to eliminate flicker for broadcast or video capture applications. All these customizable parameters can be altered via DMX as well as directly from the OLED menu interface (with the exception of Dimming Speed, which can only be adjusted using DMX).




For easy integration into an existing control system, both 3-pin and 5-pin DMX input and output sockets are included on the fixture's rear panel. There are also locking power input and output sockets, which can be used to connect up to three fixtures to a single power outlet. The unit is also fitted with a USB Service Port, which will facilitate quick and easy loading of any future firmware updates.

Weighing in at 9.26 lbs. (4.2 kg.), the COB Cannon LP200ST is easy to lift, carry and rig. With compact dimensions of 13" x 10" x 7.5" (330 x 256 x 190mm) [LxWxH] it is also convenient to store and transport, and is ideal for installations where headroom or rig space is limited. It is supplied with a flexible scissor yoke, which locks securely into place using a pair of large plastic thumb-tightening screws, that can either be used as a hanging bracket or floor stand.
"ADJ's COB Cannon Wash fixtures utilizing COB LED engines have proved extremely popular with both integrators and equipment rental / production companies for a number of years," explains ADJ USA's National Sales Manager, Alfred Gonzales. "Now, with the new COB Cannon LP200ST, we've boosted the wattage of the LED engine and added a lime chip. This gives the fixture a higher CRI output, plus it allows lighting designers to be more flexible with the option of a full gamut of colors as well as tunable white color temperatures for properly lighting people of all skin tones. These versatile fixtures are ideal for a wide variety of temporary event and permanent installation applications. Thanks to their wide native beam angle, they are perfect for use as house lights, while the supplied clip-on lenses mean they are equally suited to washing stages, dancefloors and décor."
The COB Cannon LP200 ST is shipping now from ADJ USA. To find out more about the COB Cannon LP200ST visit: https://www.adj.com/cob-cannon-lp200st