The rugged Encore LP32IP LED wash light offers smooth color mixing with a vast palette of options and a high CRI. Suitable for use both indoors and outdoors in any weather, thanks to its IP65-rated casing design, this versatile luminaire can be used as a color wash, blinder, strobe, or eye candy effect.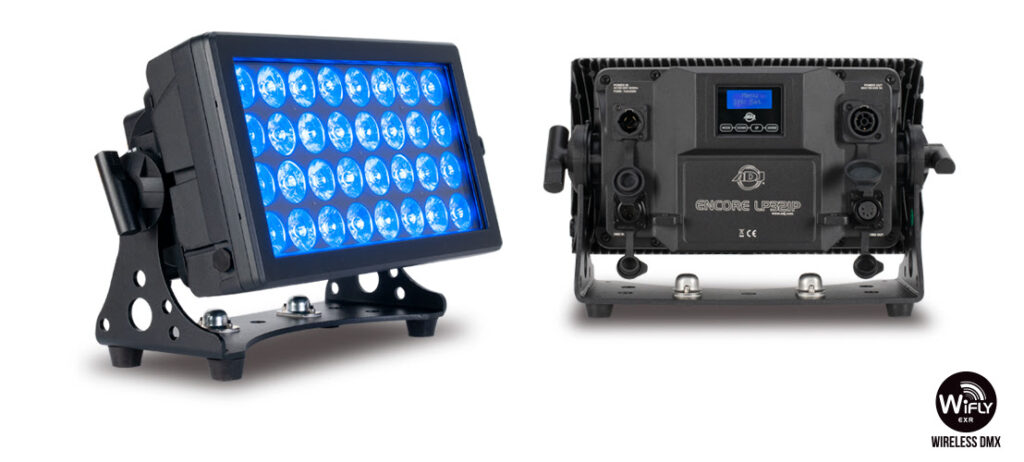 A total of 32 x 20-Watt 4-in-1 RGBL color mixing LEDs are packed into the Encore LP32IP's compact casing, arranged in an 8 x 4 array. Through mixing the four primary colors (red, green, blue and lime) at varying levels of intensity, a wide variety of color options can be achieved. These include white light with a variable color temperature of 2700K to 7000K, which can be easily selected using either linear control or preset macros (2700K, 3200K, 4000K, 5600K, 6500K & 7000K). The unit is also supplied pre-programmed with 64 additional color macros, which can be used to aid quick programming. Inclusion of the Lime LED element boosts both CRI and perceived brightness as well as filling in gaps in the color spectrum.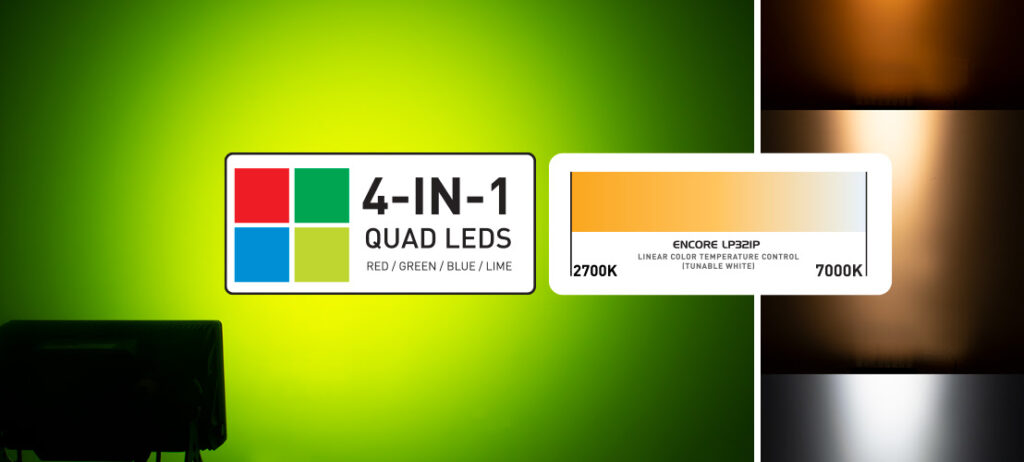 The Encore LP32IP's LEDs are arranged into eight individually controllable sections, each comprising a 2 x 2 array, which can be used to create engaging "eye candy" animated patterns and pixel-mapped effects. It offers a tight native beam angle of 11-degrees (23.7-degree field angle), which can be easily widened to 25-degrees (47-degree field angle) using the included diffusion filter and magnetic filter frame. Additional frost filter options (20-degree, 60-degree, and 100-degree) are also available as optional accessories, as are a set of metal barn doors (model BAR032) that attach to the front of the fixture using four mounting screws.
With a robust all-metal construction and durable black powder coating, the Encore LP32IP is designed for use in professional entertainment lighting environments. It has an IP65 rating, which means that it is sealed to prevent the ingress of liquid and particulates, including rainwater, snow, dust, and sand. This makes it suitable for temporary outdoor use as well as for indoor applications where the fixture may be subject to liquid spillage or come into contact with excessive dust or dirt.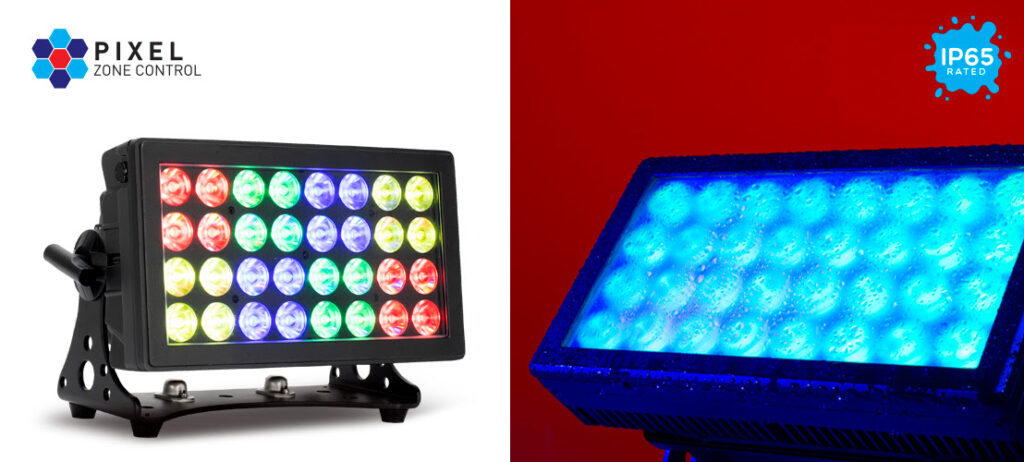 The included heavy-duty bracket can either be used to stand the fixture directly on the floor or to mount it to truss using its integrated omega clamp receivers. The bracket's design also incorporates a sure-lock system which slots into place at 10-degree intervals, making it extremely easy to set multiple fixtures to precisely the same angle.
Mode selection, as well as DMX addressing and configuration of other operating parameters, is facilitated via a 16-character OLED display with four corresponding push buttons located on the rear panel. This provides a menu-driven interface which is simple to navigate making the fixture easy to setup for different applications and user preferences. The fixture offers six selectable dimming modes (standard, stage, TV, architectural, theatre and stage 2), four selectable dimming curves (linear, square, inverse square, and s-curve), fourteen LED refresh rate options ranging from 900Hz to 25KHz, and three fan speed options (auto, high, or silent). All these settings can be configured either from the menu display or remotely via DMX, with the exception of fan speed which must be set using the menu interface.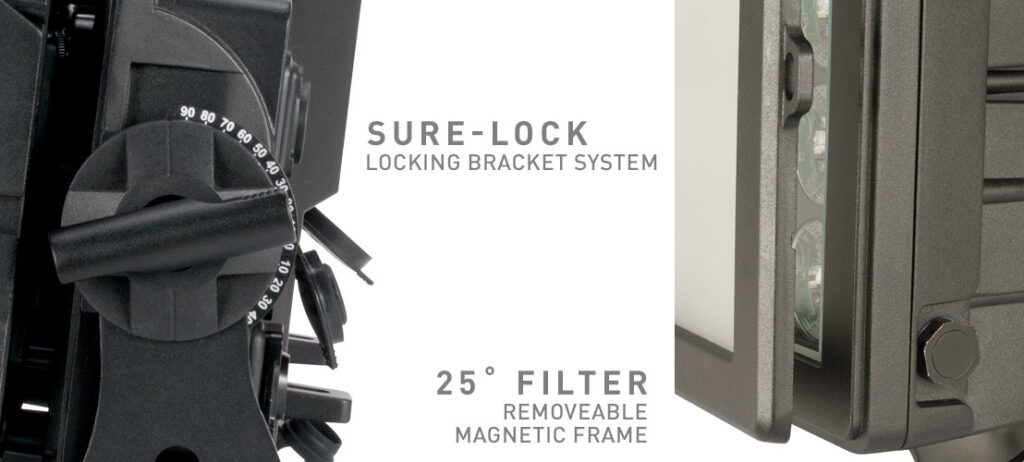 For simple wash lighting applications, the menu interface can be used to select a color macro or mix a custom color with no need for DMX control. The fixture is also supplied with 13 pre-programmed chase patterns which can be selected – with adjustable speed and fade time – either directly from the menu panel or via DMX. For DMX control the unit offers a choice of ten different modes ranging from 4-channel to 64-channel. The lower channel options group all the LEDs together, while the modes requiring larger numbers of channels allow independent color mixing for each of the eight zones. The largest, 64-channel, option provides even greater color mixing by adding 16-bit 'fine' adjustment for each of the four primary colors in each of the eight zones.
The fixture is compatible with ADJ's WiFLY EXR wireless DMX protocol, allowing it to receive a DMX signal wirelessly from a compatible WiFLY transmitter or another WiFLY-equipped fixture over a distance of up to 2500 ft. / 700m (line of sight). It is also supplied with IP65-rated 5-pin DMX input and output sockets to allow integration into a cabled DMX setup as well as IP65-rated locking power input and output sockets. The latter allows a pair of fixtures @ 120V (or up to 6 fixtures @ 240V) to be daisy-chained from a single power outlet.
The Encore LP32IP is part of a whole series of new IP65-rated wash fixtures from ADJ which all feature the same 20-Watt RGBL color mixing LEDs. The range includes four static LED par options – the Encore LP5IP, Encore LP7IP, Encore LP12IP and Encore LP18IP, which incorporate 5, 7, 12 and 18 of the LEDs respectively – as well as a 7 LED zooming par – the Encore Z7LP (coming soon) – and a linear wash fixture which features 15 LEDs – the Encore LB15IP. Because all these fixtures utilize identical LEDs, two or more fixture types can be incorporated within a stage or event lighting design and deliver perfectly consistent color mixing.
"With the addition of the new Encore LP32IP, ADJ's Encore Lime series now offers a complete range of punchy IP65-rated wash solutions that all share the same lime-enhanced color mixing LEDs," comments ADJ USA's National Sales Manager, Alfred Gonzales. "Not only do they offer an expanded color palette and high CRI, but tunable white means that the fixtures can also be used to properly light people of all skin tones. With a compact yet robust design and intense output, the Encore LP32IP can be used as a wash, blinder, strobe, or eye candy effect, making it a versatile addition to the inventory of any production company or rental house."
To find out more about the Encore LP32IP visit: https://www.adj.com/encore-lp32ip