PTZOptics has announced the release of the new PT-SuperJoy-G1 Joystick Controller. It's designed to support both serial and network-based multicamera control to users of any ability level.
The SuperJoy provides control over any PTZOptics or HuddleCamHD camera. It also controls any Sony, Birddog, Newtek and other PTZ cameras for select settings.
"There is no wrong use case for the SuperJoy," says Matt Davis, Lead Engineer at PTZOptics. "We made this joystick to 'play nice' with users' existing setups. We're trying to make it universal, to work with as many devices as possible. No matter your deployment, this really should fit the scenario."
The SuperJoy can be programmed with up to 255 PTZ camera presets, including nine "quick presets." Users can also create up to four camera control groups, allowing them to change scenes.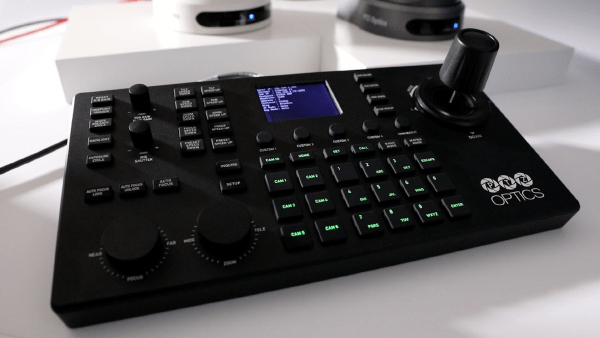 The SuperJoy's four customizable buttons can be programmed to trigger "super presets." These can reach beyond the camera, sending custom commands via HTTP, UART, TCP or UDP to network-based equipment including lights, loudspeakers, and displays. Many devices that can be controlled over IP can be triggered by the SuperJoy.
It offers control that includes camera position and zoom. Using incremental buttons, users can also adjust pan, tilt, zoom, and preset speed. The SuperJoy also has knobs to make minute adjustments to zoom, focus, iris/shutter settings, and red and blue gain.
This power to fine tune is balanced by the ability to set guardrails on what controls are available. The built-in "basic mode" disables most control other than single-camera joystick control and presets, while "matrix mode" gives the user the ability to call presets for up to three cameras.
Regardless of mode, the SuperJoy lights up available buttons for the user. Basic and matrix modes allow volunteers and novice users to participate in video production without fear of making a mistake.
SuperJoy is priced at $989 U.S. MSRP, includes a two-year limited warranty, and is available now for pre-order. Go here for more specifics.