MINNEAPOLIS, MINNESOTA, September 14, 2021 – Newly-formed startup Screenweave LLC, a Tightrope Media Systems company, made its world debut today with the launch of its premiere video management solution for educational institutions, churches, and other organizations.
A spin-off from the developers of the popular Cablecast Community Media platform, the startup's first offering is the self-named Screenweave content publishing system: a complete, cloud-based, SaaS solution for managing, presenting, and delivering video to consumers via over-the-top (OTT) platforms and mobile apps.
"For over two decades, Tightrope Media Systems has empowered community broadcasters to easily and efficiently bring their content to viewers on cable television and the web, OTT, and mobile devices," said Steve Israelsky, President of Screenweave. "Screenweave LLC was established to bring the same benefits to a broader range of organizations including schools, businesses, houses of worship, local governments, and more. While it shares the same core values and commitment to customer service as Tightrope, its formation as a separate company lets us leverage this rich experience while focusing on the unique needs of organizations for whom video is simply a powerful communications medium rather than their core business."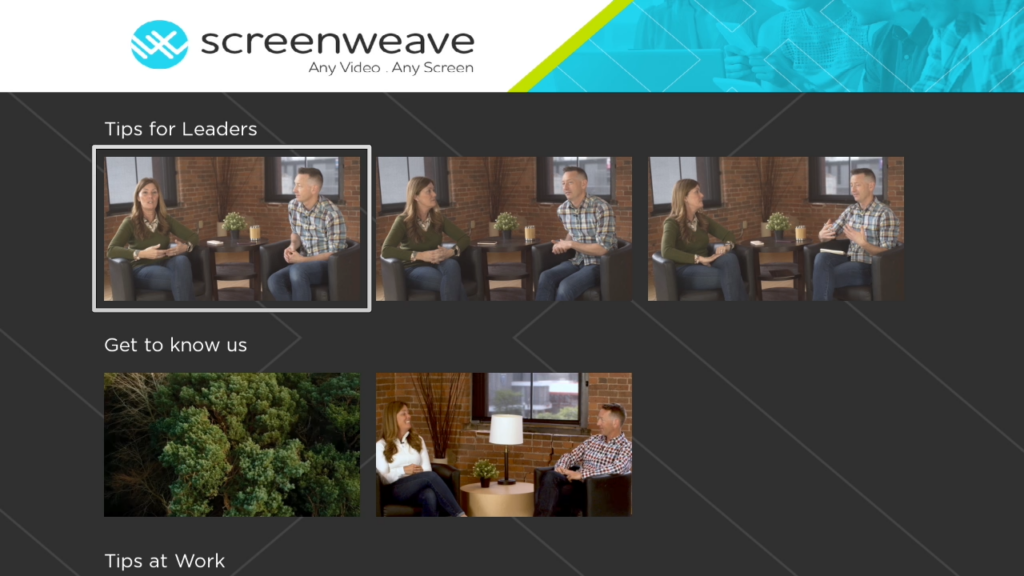 Bringing Video to Any Screen Via the Cloud
The Screenweave cloud-based content publishing system provides users with all of the power, convenience, and efficiency they need to manage, distribute, and promote their content across digital platforms. Screenweave allows organizations to quickly launch and manage their own branded video channels on iOS® and Android™ mobile devices, and on over-the-top (OTT) platforms including Roku®, Apple TV®, Amazon Fire TV®, and Android TV™.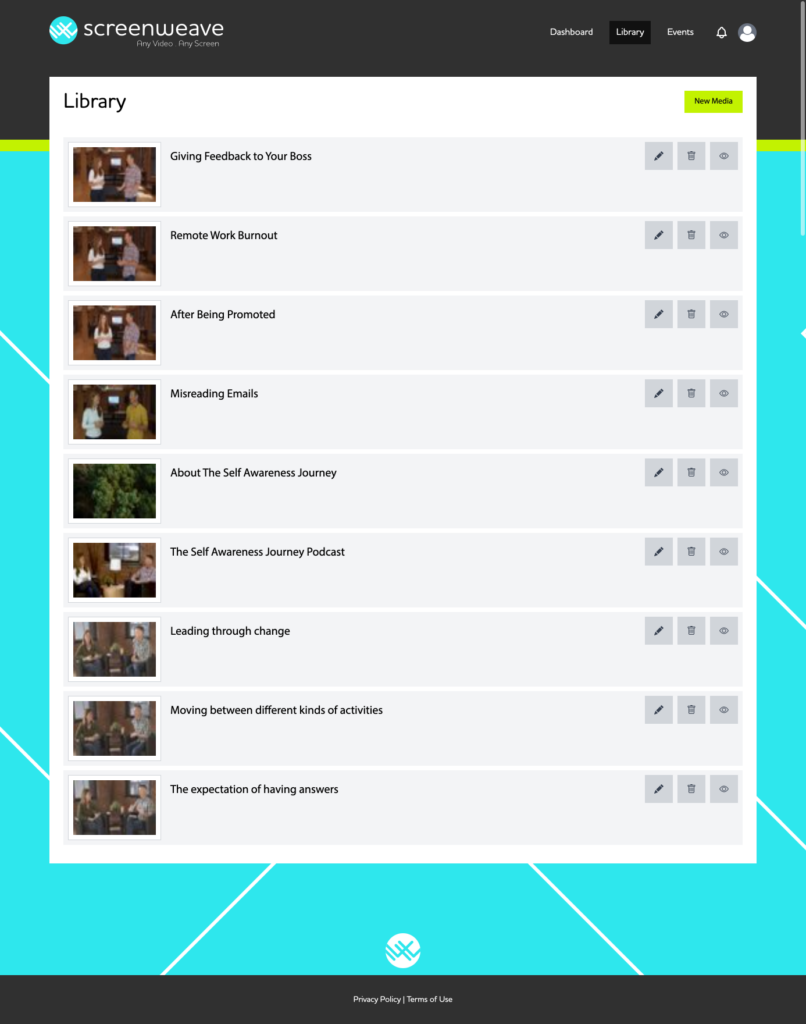 Screenweave's "add once, available everywhere" efficiency makes it remarkably easy for customers to make their content available to consumers on any viewing device. For VOD content, users simply upload their video files and metadata from anywhere through Screenweave's intuitive, web-based dashboard. Screenweave automatically transcodes the files to the required formats for each viewing platform and publishes the results across all content portals and apps. Content is dynamically sorted into collections through user-defined categories and metadata, making it easy for viewers to find topics of interest. Live streams can also be scheduled and integrated seamlessly into customers' channels for real-time viewing of meetings and events.
"Screenweave is designed to make multi-platform publishing super-simple," said Israelsky. "Our goal is that users can go to our website, sign up for a free trial, immediately upload content plus branding graphics, and have their video available on all digital platforms in less than an hour. Once they're set up, they can just add new content, sit back, and let Screenweave do the rest."
Organizations can publish their content as customized channels within the standard Screenweave-branded OTT and mobile apps for no additional charge, or upgrade to their own fully custom branded, dedicated apps for a modest design fee. Content is delivered via Screenweave's cloud-based content delivery network (CDN), minimizing impact on organizations' own networks while scaling easily to unlimited viewers. Intelligent local caching is also supported for intra-premises delivery.
The Screenweave content publishing SaaS solution was slated for release in October through a subscription-based pricing model, with multiple subscription tiers available based on content hours and viewer volumes. For more information, please visit www.screenweave.com.
About Screenweave
Screenweave LLC, a Tightrope Media Systems company, makes it easy for public and private sector organizations to use video as a medium to engage their community, followers, and customers. Its flagship solution, the Screenweave cloud-based content publishing system, enables any organization to quickly launch and manage their own branded video channels on the web, mobile devices, and OTT viewing platforms. For more information, visit www.screenweave.com or email sales@screenweave.com.