Originally posted on Staging Concepts
Calvary Chapel church, located in Hemet, Calif., serves as a gathering place for worship, scripture and song among the San Jacinto Valley community. Hosting a wide range of events, from Sunday services to community happenings, church leadership saw a need to expand the facility's stage area and functionality to accommodate performers and guests comfortably within the welcoming sanctuary space.
Bringing extensive experience in worship-specific spatial planning, Staging Concepts proved the ideal partner for bringing the church's vision to life. To provide a larger space to accommodate holiday performances and scripture reenactments at Calvary Chapel, the Staging Concepts team recommended development of a custom stage extension. Multiple SC90 Platforms and SC90 Support Systems were installed directly in front of the sanctuary's existing stage space.
"Stage extensions are a popular choice for worship venues because often stages are already in place in these facilities," said Cindy Albrecht, director of sales and marketing for Minneapolis based Staging Concepts, a division of Trex Commercial Products. "Our stage extensions are constructed to provide a seamless transition from the existing stage to the new staging, all while providing a surface that looks and feels permanent."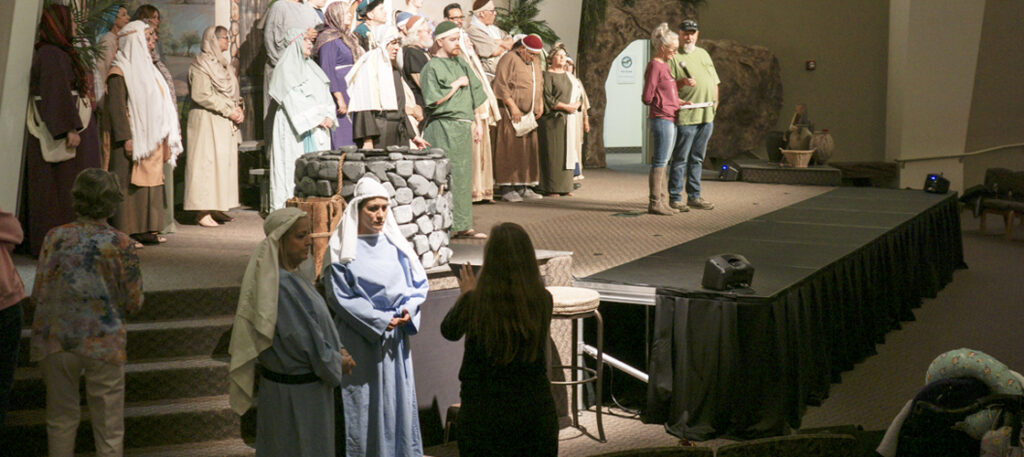 Built with a subdued black HDPE surface and mill finish frame, the stage extension effortlessly transitions from the permanent structure to the temporary staging, complete with black skirting to mask the customized substructure of the added square footage. The strategic design allows the staging to seamlessly blend into the set of "Bethlehem" and other performance environments throughout the year.
Offering unmatched durability and adaptability, the custom configuration also requires little manpower for easy setup and take down and can be tucked away into the facility's storage space when not in use. This versatility has enabled the church to discover perennial uses for the staging, further positioning its sanctuary as a gathering place for all – year-round.
"Initially needed to accommodate Calvary's annual holiday production, this expansion has proven to be useful time and again for this active church and has been instrumental in allowing the congregation to continue worshiping together," added Albrecht. "It's a perfect example of how the right staging can elevate the abilities of all people to safely access and enjoy amazing life experiences, which is what Staging Concepts is all about."
For more information, visit StagingConcepts.com.
About Staging Concepts
Staging Concepts engineers and produces the most advanced modular, custom portable staging solutions for all types of venues, including performing arts spaces and production companies, sports facilities, worship venues, convention centers, hospitality settings and special events. Since 1990, the company has been committed to elevating the abilities of all people to safely access and enjoy amazing life experiences. Based in Minneapolis, Minn., Staging Concepts is a division of Trex Commercial Products, Inc., a subsidiary of Trex Company, Inc. For more information visit www.stagingconcepts.com.