Just outside Houston lies St. Mary Magdalene Catholic church. The church was established in 1912 and would hold Mass in the homes of its parishioners until a sanctuary was built and consecrated in 1915. Now home to a thriving congregation, St. Mary Magdalene conducts seven worship services each weekend, and its sanctuary supports up to 1200 people. Stained glass windows depicting the 14 Stations of the Cross flank the sides, while an altar featuring an ornate carving of the Last Supper dominates the dais. The high-peaked, wood-paneled ceiling and other hard surfaces combined with an underpowered audio system resulted in low speech intelligibility, making it difficult for churchgoers to understand the worship service. Steerable loudspeaker arrays from Renkus-Heinz were installed in the church to improve intelligibility and enhance worship experiences for the congregation.
Church leaders approached Shawn Mullins, Founder and CEO of Covenant Communications, to redesign the audio system. An AV integration company with over 20 years of experience specializing in houses of worship, Covenant Communications has 35 employees in Houston and San Antonio and has worked with Renkus-Heinz since the company's inception. When specifying the audio upgrade St. Mary Magdalene needed, Mullins recommended Renkus-Heinz's ICLive X Series of steerable arrays to meet the church's goals of even coverage and high intelligibility. The ICLive X Series provides complete customization of room coverage through individually steerable beams, and the loudspeakers' high directivity made them the best choice for a venue like St. Mary Magdalene.
"One of the changes St. Mary Magdalene was making to their worship services was including more live music, so we wanted to ensure that the loudspeakers could reproduce full bandwidth audio with an emphasis on high speech intelligibility," said Mullins. "It's a very lively room with a lot of hard surfaces. Because the space is so wide and the ceilings are so high, we wanted a wall-mounted line array solution. After looking at two or three manufacturers that offer active line arrays, we felt the ICLive X was the best fit for the sanctuary's needs."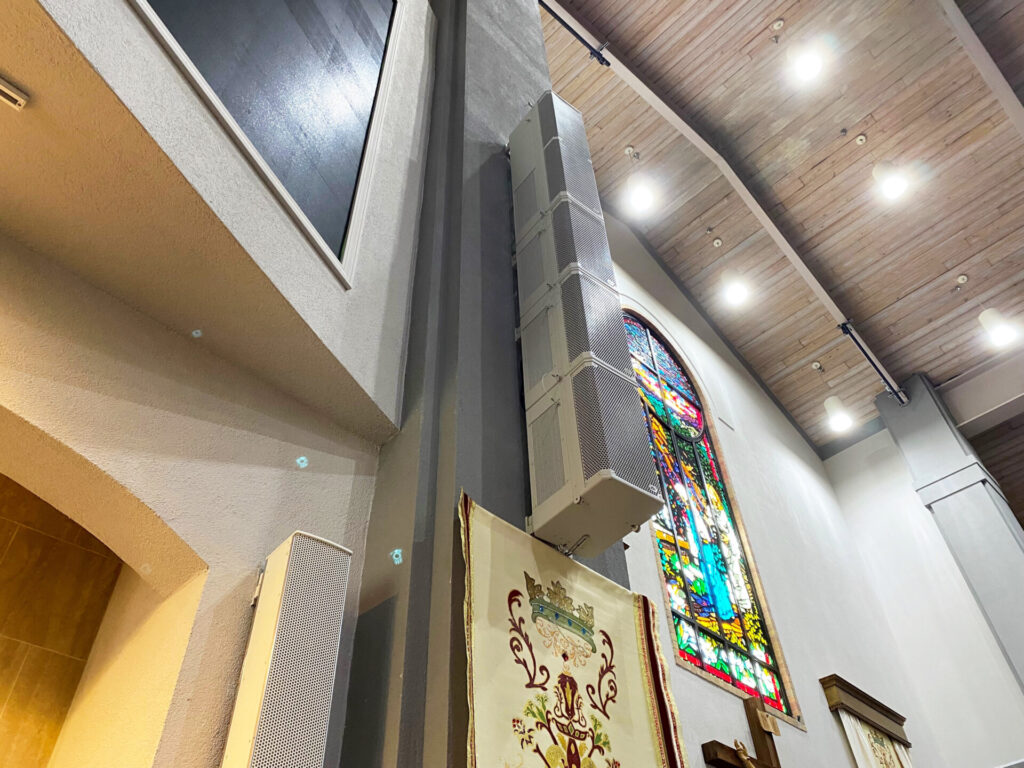 Covenant Communications installed two arrays at the front of the nave, each comprised of three ICLX and one ICLLX, approximately nine feet from the finished floor to the bottom of the array. Both steerable array modules include multiple 19 mm compression drivers on Acoustic Source Multiplier (ASM) waveguides coaxially mounted in front of 8-inch woofers. The exclusive ASM waveguide minimizes inter-driver spacing, ensuring gradient-lobe-free performance up to very high frequencies. The woofer arrangements maintain significant pattern control down to lower frequencies, providing system designers with the horsepower, steerability and directivity to deliver consistent coverage and clarity even in spaces with highly reverberant architecture like St. Mary Magdalene.
The church requested a demonstration before installation, so Covenant Communications temporarily set up one array on a column. The contrast between the old system and just one column was stark, and the church was very impressed with the performance, stating, "It sounds better with just one column than our entire sound system."
"Honestly, we expected the result and were happy that it matched our expectations. We knew what we were getting into," said Mullins. "Renkus-Heinz was one of our first manufacturing relationships, and we were an early adopter of the ICONYX Series. One of the reasons that we continue to value our relationship with Renkus-Heinz is their superior level of customer service. Their desire to be a partner in the process is continually and considerably higher than most manufacturers."
About Renkus-Heinz
With an award-winning product suite including ICONYX Gen5 Series steerable column arrays and UBX Series passive column loudspeakers, Renkus-Heinz has sound solutions for a wide range of applications from performing arts venues, transportation hubs and houses of worship to educational, corporate and governmental facilities.
For more information, please visit www.renkus-heinz.com.