CFX 2022 is now a matter for the record books, and rightfully so, as records were sent. According to Jim Wagner, Vice President of Church Facilities Expo, the conference as a whole grew by 40%, something that's remarkable to consider given that some people are still hesitant to travel.
"Coming out of a pandemic we grew on every level, meeting the needs of churches and solution providers. We struck an incredible balance of coverage for worship tech and facilities management, with the facilities track including architects, design, construction, and security."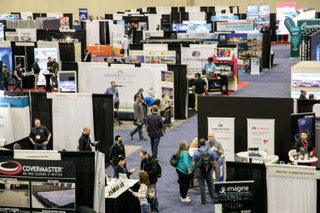 That last area is particularly significant. From its inception, CFX has always prided itself for addressing every area of concern for churches, and security, new to the conference this year, immediately generated an enormous response from attendees.
"For the first time this year, we offered pre-conference masterclasses," Wagner says. "That alone was an extremely popular option for attendees, huge numbers of people signed up for them, across the board. Streaming had the highest response, but number two was security, showing what a priority security is in the minds of church leaders right now. This year proved that CFX represents the wholistic needs of churches more than any other brand on the market."
Plans are already underway for next year's conference, to be held once again in Dallas, October 9-11. If you register now and use promo code "2023" you can register for only $150. To register, click here.