Editor's note: In this new series, we look at the theory of lighting in houses of worship, and how it can be used to change mood and to tell a story. Topics will include lighting concepts and techniques, as well as specific lights that can used to achieve a desired result.
Color plays an important role in human cognition, as artists have recognized it for thousands of years. It can also be a valuable tool in houses of worship. It can help capture and direct people's attention, raise the energy level in a space, make it more aesthetically appealing, create or enhance the mood, and more.
One of the most important developments in the use of color was when Johannes Itten, a painter, and teacher at the Bauhaus school, codified what great artists intuitively understand about color in his book "The Art of Color," written in 1920. In it, he describes a color wheel with 12 colors (yellow, yellow-orange, orange, red-orange, red, red-violet, violet, blue-violet, blue, blue-green, green, and green-yellow) and he identified seven types of color contrast, including contrast by hue or color, contrast by value or the lightness or darkness of a color, contrast by color temperature, contrast by complements, simultaneous contrast, contrast by saturation, and contrast by extension. These color combinations are pleasing to the eye and work well together.
Color and color combinations can evoke strong emotions. A natural response to red is an increase in appetite or energy, while green is very calming and soothing. And how can one see a combination of red and green and not think of Christmas? The emotional reaction to colored light and the seven types of contrasts can be a great starting point for designing lighting looks in houses of worship.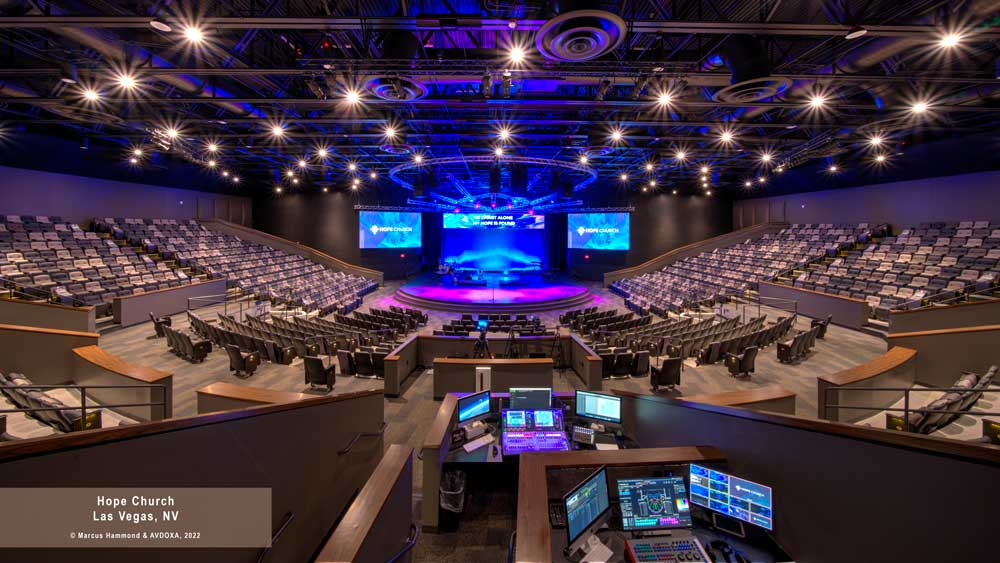 Creating a uniform wash of tunable white light across a large platform that is accurately repeatable is very important for focusing attention on the platform in houses of worship. Tunable white light helps to ensure that skin tones and set pieces are rendered naturally, regardless of the complexion of the subject(s) or the colors of the set. White light can range in color temperature, color rendering index (CRI), R9 value (an extended measure of color rendering), TM-30 value (an even more extended measure of color rendering), and in its television lighting consistency index (TLCI), which is a measure of how faithfully a light source renders colors and skin tones on video. White light with low color temperature, which is what is produced by tungsten lamps, ranges from about 3000 Kelvin (K) to about 3200 K. White light with high color temperature can range from about 5600 K to about 8000 K, which is what daylight looks like with a clear blue sky when the sun is at its highest point in the daylight sky. Tunable white light can be adjusted to match the desired color temperature.
Lighting designers might choose to light a subject with a lower color temperature for front light to bring out the red in skin tones and a higher color temperature for backlight to create a contrast that emphasizes the depth or modeling of a subject. At times, a lighting designer might use a value in between tungsten and daylight, or around 4500 K, for front light, especially if there is a mix of light sources with different color temperatures in the same lighting rig.
Luminaires with a high color rendering index (CRI), TM-30, and a high TLCI are great tools for lighting a subject for the camera because they make colors look "right" on camera. Another important consideration is that the white light produced by a fixture is balanced between green and magenta so that skin tones look natural. Some fixtures have a +/- green shift setting in the menuing structure, which allows you to compensate for an uncalibrated camera or another light source that might be polluting the subject. One such fixture is the PROLIGHTS EclPanel TWC. It is also useful for creating a uniform wash because it has a wide field angle of 159ᴼ, which is especially important for video. After all, the camera is much more sensitive to hot spots and cold spots than the human eye.
Fixtures like the EclProfile CT+ from PROLIGHTS that can output high CRI, high R9, and high TLCI are great for front lighting a subject while also allowing the designer or operator to add dramatic color. For lighting the sanctuary with white light or colored light, consider the Chroma-Q Inspire, Mini, and XT.
Coming soon: In the next installment of the series, Experiential and Emotionally Connective Music.