Negril Seventh Day Adventist Church (Negril SDA Church), located in a small community on the west end of Jamaica in the West Indies, has been operating since the late 1960s. Mitchroy Grubb, lead tech coordinator, has been attending Negril SDA Church for more than 20 years and in 2019 joined the team as an audio technician.
With no experience in live streaming, but a passion for photography and a background in IT, he set out to elevate the church's services and began streaming using only a small camera and a laptop. It was a step in the right direction for the church; however, the setup left something to be desired.
"We used a capture card to bring in the feed to the live stream. I felt bad at times because I am the team leader and my team was growing frustrated by not having a dedicated streaming device to work on," said Grubb. "We had to depend on one computer to do all the streaming and simple graphics, all while hoping it didn't crash."
"The first time I heard about Blackmagic Design was in 2020 when the Coronavirus hit us here in Jamaica," he continued. "We had to rely even more on streaming at that time, but the quality of our setup wasn't as clear as we wanted. Many YouTubers who were searching for a better livestreaming setup praised Blackmagic Design products for being affordable and simple to set up. With limited resources, this seemed like the perfect option for our congregation."
In 2023, Negril SDA Church was finally able to acquire an ATEM Mini Extreme live production switcher and a Pocket Cinema Camera 6K G2 digital film camera, with the new setup helping the congregation to grow well beyond the neighborhood.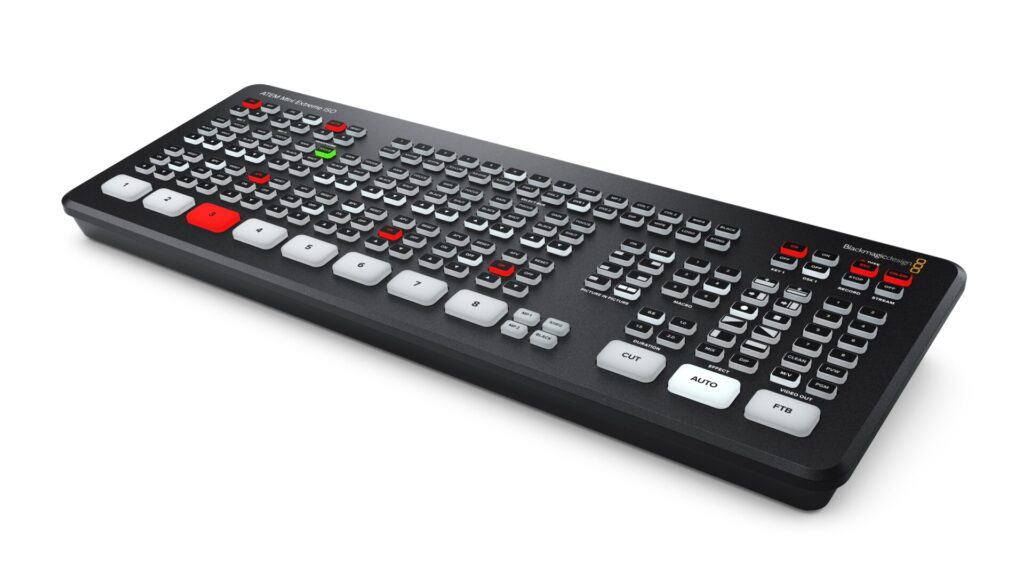 A NEW ERA
Incorporating the ATEM Mini Extreme was a whole new world for Grubb and his team. ATEM Mini Extreme includes all of the features of an ATEM Mini Pro, such as USB webcam out, Fairlight audio mixer with EQ and dynamics, and transition effects, plus it has eight HDMI inputs, two separate HDMI outputs, two USB ports and a headphone connection. There are also four chroma keyers, six picture in picture DVEs, two media players, and a Multiview with up to 16 views.
"Some of our favorite features are the headphone jack and two dual HDMI outputs, so that we can have a feed sent to the output projector. There are two media players for our still images, and each has its own downstream keyer. It's a powerful tool that's easy to use," said Grubb. "The process runs much more smoothly since we have a tool that does the job. We love this device."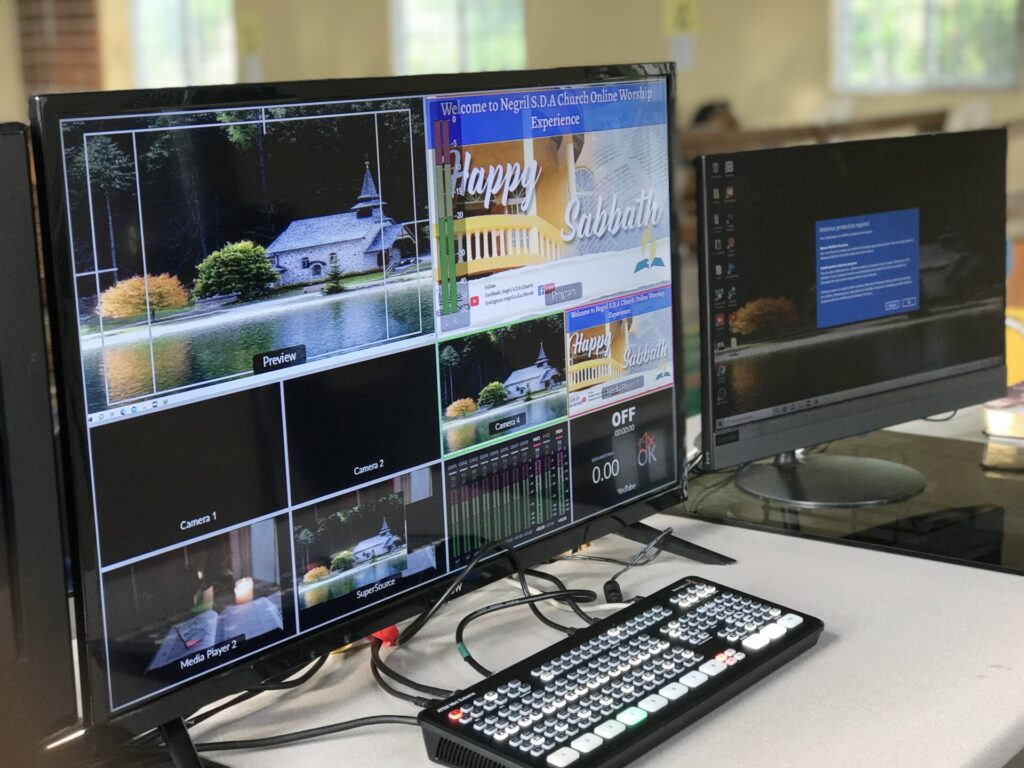 According to Grubb, the image quality that the Blackmagic Pocket Cinema Camera 6K G2 brings to Negril SDA's stream is like night and day. The advanced technology, handheld 6K digital film camera includes 6144 x 3456 Super 35 high resolution HDR sensor, dual native ISO, EF lens mount and direct recording to USB-C disks. This powerful model adds an adjustable touchscreen, and a larger battery for longer run time.
"The features that got me excited were the wide range of options to choose from as it relates to image adjustability. We aren't bound to preset adjustments, so we can create our own," said Grubb. "With the Pocket Cinema Camera 6K G2, we have added an additional angle of our service and get a professional image for our stream. With that, we have grown our channel significantly."
On the products' ease of use, Grubb noted, "It was really simple to get everything up and running, and the volunteers were able to catch on really fast. For a church like ours with the limited resources we have, incorporating gear that is simple to use but that creates a professional finished product is something we didn't know if we'd ever be able to get our hands on. We are grateful that products such as these exist and thank Blackmagic Design for making products specifically for our needs."
THE RESPONSE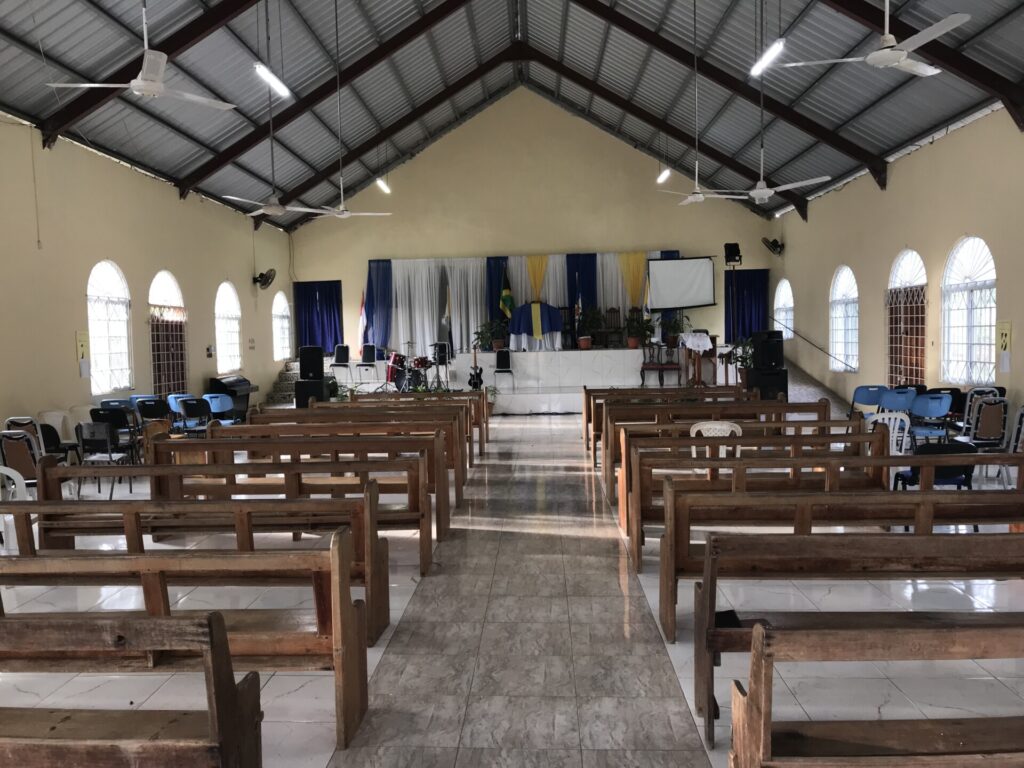 On any given Saturday, Negril SDA Church has at least 150 members attend services in person. Prior to incorporating Blackmagic Design gear, the church had approximately 100 people tune in to the live stream. Attributing the gear improvements, less than a year later, more than 1,000 people join online, with Grubb noting that both the online viewers and in house members are elated with the quality and flexibility of the new Blackmagic Design devices.
"We can cover more areas with the addition of the Pocket camera, and it's an extremely high-quality camera at that. With the dual output from the ATEM Mini Extreme, we are able to send a video feed to the projector screen," said Grubb.
Thrilled with the outcome of incorporating this new gear into his workflow, Grubb encourages other churches faced with budgetary restrictions and a small staff to explore Blackmagic Design's offerings.
"One of the things any church should do in their research is set a budget before buying any equipment. Blackmagic Design products are not as expensive as other brands and they have a product for truly any budget or application, so it's easy to see why a full Blackmagic Design workflow would be built over time," said Grubb. "Its simplicity and price is one thing, but to offer that level of quality for a fraction of the cost, compared to other devices with fewer specifications – it seems too good to be true if you haven't experienced it firsthand as I have."
While Grubb plans to continue expanding his setup as resources allow, he is confident that the Blackmagic Design equipment Negril SDA Church added this year has provided the quality streaming capabilities it needed to include a wider online audience and enhance the experience of its growing in person membership.